By Caribbean News Global contributor
CASTRIES, St Lucia – The prime minister of Saint Lucia and minister for finance, economic growth, job creation, external affairs, and the public service; on Wednesday, April 8, announced a belated so-called 'Social Stabilization Plan' in lieu of a competent stimulus plan, while caringly concealed that "government would require public servants to forego between 35 – 60 percent of salary.
All in, the 'Social Stabilization Plan' has no parallel of social and economic forbearance to that of other Organisation of Eastern Caribbean States (OECS) or that of other CARICOM Member States and opposition leader Philip J. Pierre, extraordinary measures for extraordinary times.
The prime minister of Saint Lucia and minister for finance recited that: "The focus of the social stabilization is two-fold: (A) the persons who have completely lost their income and (B)  the more vulnerable persons in our society: the elderly, persons on the poverty list and persons waiting to be on the poverty list."
All be it, the address took the form of prayers, confession (less absolution) and a sermon designed to blindfold theology with cunning capitalism on a Wednesday evening in holy week, is a travesty to Christianity. Secondary to that, the prime minister capitalist dictates to aristocracy, timely conceded that COVID-19 "has created two crises: one is a health crisis and the other is an economic crisis."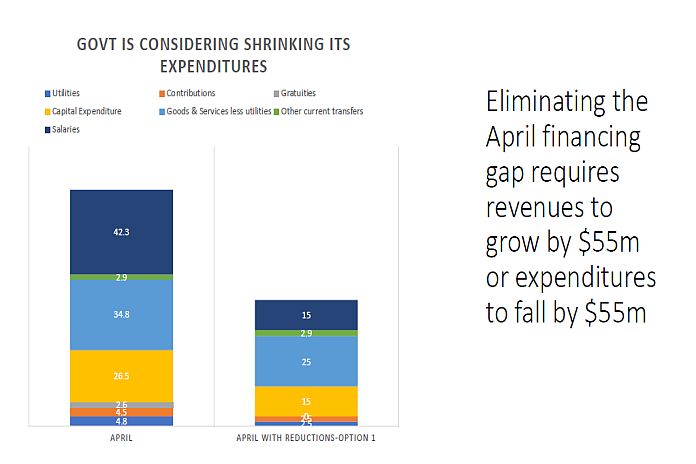 Unconsciously, perhaps, Senator Bernie Sanders of Vermont dropped out of the 2020 presidential race, Wednesday morning. But by evening, one was left wondering who is better at Socialism – Senator Sanders or the prime minister of Saint Lucia.
The backdrop of this stems from the 'Social Stabilization Plan' that reads: "The director of The National Emergency Management Organization (NEMO) will be addressing you [ tomorrow] on [ Holy Thursday ] the efforts of the organization during the 24-hour curfew and specifically the distribution of care packages," it continues, "the Saint Lucia Hotel and Tourism Association (SLHTA) is also collaborating with the ministry of agriculture, other private sector associations, non-governmental and service organizations to undertake a National Meals Program (NMP). The first phase of the program will begin this Easter Sunday 12 April 2020 with a limited rollout, however, the program will eventually feed 5,000 underprivileged persons on a daily basis using produce from local farmers."
The long and short of this is that, this is self-manufactured, with economic and political underpinnings. Moreover, the 'Social Stabilization Plan' concludes stating: "Government is already working on economic stimulus and it is my intention tomorrow [Holy Thursday ] to commence dialogue with the private sector and the opposition to update them on proposed measures and to engage them on how we can solve the issues we face. A team headed by labour minister honourable Stephenson King has been meeting with the unions on how we can work together to stabilize the current situation. Once we have a better understanding of the state of the local, regional and global economy, we will agree on a plan and start implementation."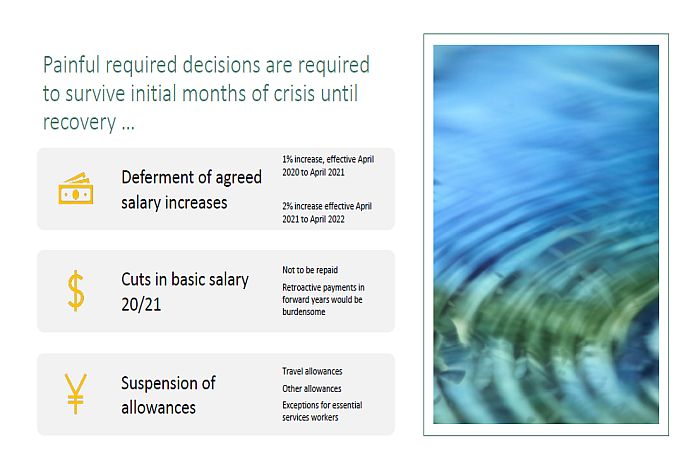 Coinciding with the morning after, the prime minister hugged at least two favorable radio station hosts to clarify his lame "Social Stabilization Plan' and COVID-19 response said: "I always like to be the best and I am hoping that I can inspire all Saint Lucians to embrace those same virtues," he explained. "I am doing this job because I want to see us succeed. I want to show that we can be a compassionate country in which we care for each other and that is what I am committed to – that's what my cabinet is committed to, the well-being of all Saint Lucians and giving them the opportunity to reach their full potential. This is a challenge."
He continued: "I believe very much and have a tremendous amount of confidence in the track record of my government, but this is not the time for that," the prime minister asserted. I think that even what the leader of the opposition said' We've spoken more often than we've ever spoken before. "I've set aside my ego; I've set aside any boundaries. There's no person that we will not engage in order to be able to solve the problems facing this country and that's the solemn truth," Chastanet said. "From day one I have always committed to achieving the best for all Saint Lucians and that's always been a difficult balance."
Still, no mention that the government requires public servants to forego between 35-60 percent of salary.
Last month, president of the Saint Lucia Civil Service Association (CSA), Cyprian Montrope told members that "There is great uncertainty about the duration of this pandemic and so we must begin making the necessary preparations for the times ahead. Given the possibilities for even more austerity measures…"
But according to the prime minister's rational about "focusing on the country" and that Stephenson King has been meeting with the unions; president of the Saint Lucia Trade Union Federation (TUF) Julian Monrose, issued a press release with reference to government's request for a pay cut for public servants;
"… (b) The Government proceeded to COVID-19 Trade Unions Apr 05 2020 (2) that it would require Public Servants to forego between 35% -60% of salary. The Government further presented a number of scenarios by which this can be accomplished. (c) The Unions indicated their surprise and disappointment with the presentation and further informed government that this matter was beyond the powers of the leadership of the Unions to decide upon. The TUF is ready to work with government … this unprecedented crisis. However, the interests of public servants will not be compromised in that effort."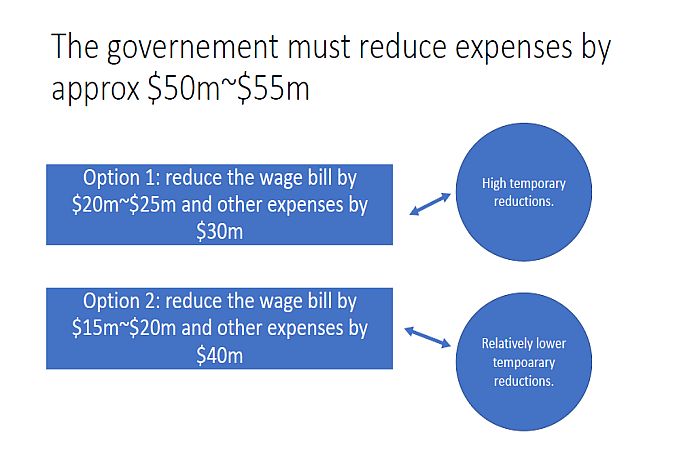 Meantime, the prime minister says: "Let us all play [in] our part in preserving our country, the Helen of the West, by joining our forces" observer cannot but compare opposition leader Pierre's extraordinary measures for extraordinary times with the finance minister 'Social Stabilization Plan' while "working on economic stimulus" an and overdue budget 2020/21. It is evident that the prime minister and his finance portfolio of in-capabilities do not leave much hope to express collective gratitude but for the majority of the indigenous people of Saint Lucia to brave "the frontlines of this battle."
In tune with the ricochet of words, the prime minister said, "There's nothing to compare with a person laying down his or her life for another, and in this Holy Week the part being played by our doctors, nurses, policemen, emergency personnel, customs officers, stevedores, supermarket and gas station staff, and others assumes greater relevance."
Dr Alphonsus St Rose puts this presumptive suicide mission in perspective April 2, 2020: "Physicians, nurses and healthcare workers, risking our lives on the frontline, took an oath to serve the public and we will do just that. But to the authorities I say, caution, don't you dare sacrifice us on the frontline by failing to provide us with proper, standardized, protective supplies and equipment. There can be no acceptable rolling back of the standards here for us on the frontline as we too have loved ones, families and friends".
Notable, the prime minister comments of "the frontlines of this battle" followed prayers, confession (less absolution) and a sermon – never divulged that the "sacrificial lambs" were also expected to be subservient, and that, "government would require public servants to forego between 35 – 60 percent of salary" yet, makes no mention and/or take ten percent salary cut to fight COVID-19.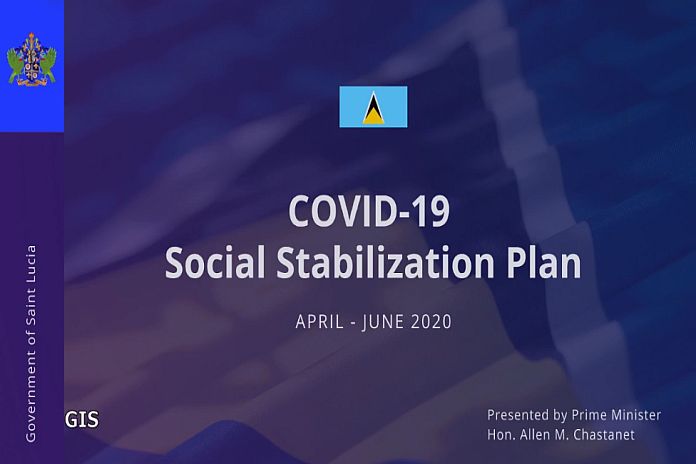 Unemployment relief $65 million
Self Employed subsistence allowance $16.8 million
Extension of Corporate tax installment payments
Extension of time for filing of income tax returns by one month
Waiver of interest and penalties on all tax types for March 2020 $3 million
Tax credit to Companies and other entities which retain at least 30 percent of their staff
Government seeking relief from financing partners
Government in discussion with insurance companies to provide assistance to persons affected by COVID-19
Engagement with utility companies to assist those who have suffered job loss
Commencement of duty-free barrel concessions earlier $4 million
Concessions to Companies that produce sanitation and health care products $5 million
Reduce import bill by implementing a strong " Buy Local" campaign
Suspension of all rental payments for six months for small, medium and micro enterprise renting from government
Provide direct support to farmers
Government to increase purchases from local farmers and fishermen
Government assistance to local entrepreneurs producing $7.4 million
Incentivies to support the Manufacturing of household cleaning items $ 3.4 million
Government to procure medicine/supplements for distribution
Price Gouging legislation
Financial assistance from development partners
Leader of the opposition Pierre has a fitting conclusion: "We are living in extraordinary times and the solutions must be – extraordinary solutions. We, have to have a completely new approach."