By Caribbean News Global

LONDON, England – Under the coronavirus (COVID-19) new police regulations, in the UK, the government bought in a new health protection bill which contains new powers for the police to help manage the spread of the coronavirus.
"Stay at home this Easter to protect The National Health Service (NHS) and save lives is the latest message to the public from the government in a new campaign to fight coronavirus. The campaign has been developed to meet the additional pressures of the long Easter weekend where many people typically spend time with family or friends. New organic and paid-for content will be rolled out across social media, print and outside the home."
UK government spokesperson said: "We understand that people will want to spend time with their friends and families this Easter, and we recognise that we are asking the public to make sacrifices in the fight against this disease. Everyone has a role to play in this, and the best way we can protect our loved ones is by staying away this Easter. We are at a crucial moment in preventing further transmission of coronavirus, and so it is vital that we continue following the government's guidance to stay at home, protect the NHS, and save lives."
The new campaign reinforces the importance of staying at home over Easter, and only leaving your house to buy essentials, to do one form of exercise a day, to travel into work, but only where you cannot work from home, and for any medical or social care need. If you need to leave your home for these reasons, you should be minimising time spent outside of the house and ensuring you are two metres away from anyone outside of your household. You should not be visiting friends or family during the long weekend.
In sunny Caribbean destinations citizens are under 24-hour curfew effect Good Friday, April 10, 2020.  There can be no beach activities because the country is still under a state-of-emergency / curfew.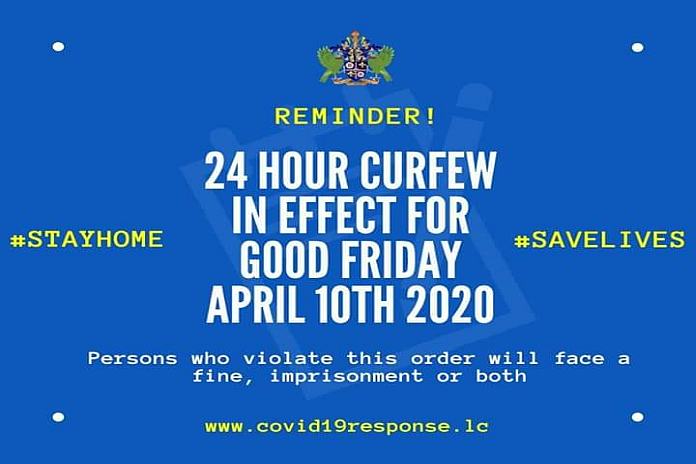 "Saint Lucians are reminded as we head into the Easter weekend that beach activities are strongly discouraged as per the Emergency Powers (Disasters) (COVID 19) (Curfew)," prime minister Allen Chastanet, caution nationals. "A person who contravenes this Order commits an offence and is liable to imprisonment with or without hard labour for a term not exceeding six months or a fine not exceeding $1,000 or both and forfeiture of goods or money in respect of which the offence has been committed," he added.
COVID-19 emergency powers in St Lucia: What's the relevance?
#StayAtHome and stay safe, this Easter holiday weekend is one of the best ways to combat the spread of the novel coronavirus COVID-19, the government spokesperson said.
Internet usage has boomed, broadband providers are reporting increase traffic, while online offerings from the UK's brilliant arts and cultural organisations are expected to continue over the long Easter weekend – a time when many would normally be heading outdoors on holiday.
Culture Secretary, Oliver Dowden, said: "No matter where you are in the UK, our outstanding cultural institutions can keep you entertained throughout the whole Easter weekend."