USA / BELIZE – Executive directors of the World Bank Group last week completed an official visit to Belize where they saw first-hand the challenges and opportunities faced by the Caribbean Community (CARICOM) country. During the visit, the ten executive directors met with the prime minister, John Briceño, and cabinet ministers, visited World Bank-supported projects, and met with the private sector and the economic development council.
As a small state, Belize's challenges are multifaceted and these are exacerbated by overlapping crises – climate change, the COVID-19 pandemic, and Russia's invasion of Ukraine, among other shocks. The World Bank's work in Belize supports the country in recovering robustly from these impacts, addressing resilience to climate change and protecting the most vulnerable. Belize is highly vulnerable to natural disasters and approximately half of the country's population is poor.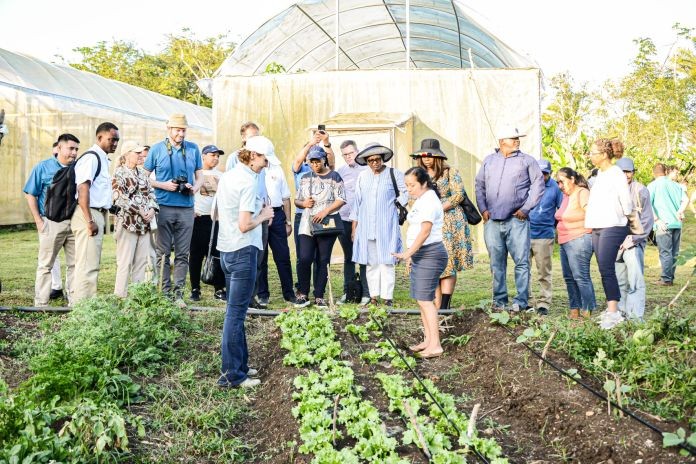 "Belize is making progress, particularly in addressing climate change and protecting the most vulnerable, as outlined in the country's newly launched medium-term development strategy," said Ayanda Dlodlo, Group spokesperson and executive director for Angola, Nigeria and South Africa. "Seeing World Bank's support to the energy, blue economy, health and agriculture sectors – and how that support has positively impacted and benefited tens of thousands of households – is encouraging. We look forward to continuing our support to help Belize meet its development objectives."
During the official visit, prime minister, Briceño, remarked on the necessity of support to countries like Belize.
"We are on the right track and have made great strides towards achieving our development objectives, but we need to do much more, particularly as one of the most vulnerable countries on earth," he said. "For that, we need the continued support of our development and knowledge partner, the World Bank, and we look forward to future engagements with the International Finance Corporation and the Multilateral Investment Guarantee Agency.
"Belize and the World Bank Group are companions, co-travellers on the road to achieve Belize's great aspirations – for our country, for our people, for our climate," the prime minister added, while advocating for Belize's need for affordable finance to fight the multidimensional impacts of climate change, particularly given the country's vulnerabilities.
The World Bank's executive director for Belize, Antigua and Barbuda, The Bahamas, Barbados, Canada, Dominica, Grenada, Guyana, Ireland, Jamaica, Saint Lucia, St Kitts and Nevis and St Vincent and the Grenadines, Katharine Rechico, noted the difficulties faced by small states. "Though classified as a middle-income country, the realities of the multidimensional challenges faced by Belize were made clear during this visit. I am pleased that the World Bank Group is rising to the challenge and helps addressing the needs of Belize and other small states. The institution will continue to do so."
This visit to Belize was the first ever under the World Bank's executive directors' group travel, who also visited two other countries in the region.