By Robertson S. Henry
CASTRIES, St Lucia — It has been a record-setting year so far, for 16-year-old Ackeem Auguste competing in 2020 Saint Lucia National Cricket Association First Division Inter-District 2-Day Cricket Championships, currently underway.
For the third consecutive game, he mesmerized and exerted his dominance over his opponents with yet another exquisite century knock of 143.
On Sunday, March 01, 2020, the national senior and Windward Islands Under-19 batsman hit his third consecutive century, batting for Central Castries against South Castries at the Mindoo Phillip Park.
Despite Auguste 143, South Castries was fortunate to walk away with first inning points as the keenly contested match between the two teams ended in a draw.
Earlier on day one February 29, 2020, South Castries won the toss and decided to take first knock in perfect conditions, posting a very competitive 317 for 8 declared. This total was built on half-century contributions from Kester Charlemagne 75 not out, Malcolm Maland Monrose with 72, Tonius Simon 67, and Johnson Charles 66.
Having to contend with a tricky period of play towards the end of the day, Central Castries managed to close day-one on 34 for the loss of 1 wicket.
Central Castries resuming their innings on day-two, putting up a valiant effort in their quest to overhaul South Castries first innings total. They fell agonizingly close by 34 runs, posting a total of 283 all out from 68.3 overs thanks largely to the continued brilliance of Auguste.
South Castries, batting a second time with a 34-run first inning lead, survived a late afternoon scare as Central Castries threatened to roll them over with an aggressive spell of fast bowling from national left-arm fast bowler Dillan John who finished with 3 for 32. He ran through the defenses of the South Castries' top-order batsmen in his first 3 overs, to leave them wobbling at 05 for the loss of 4 wickets.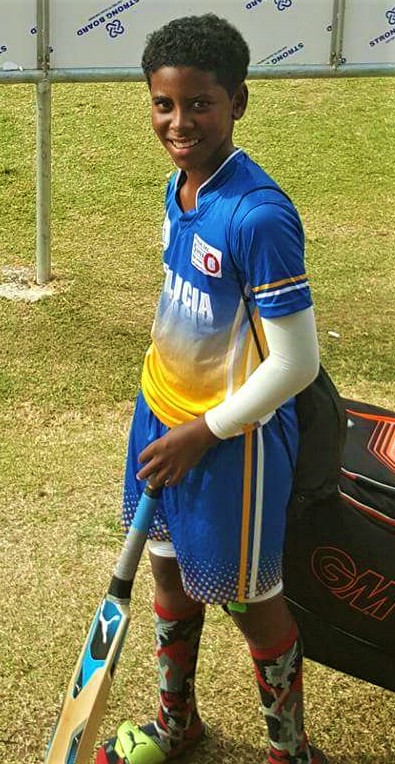 Staring down the abyss of a collapse, South Castries, led by a sterling 92 from national all-rounder Kester Charlemagne, gradually regain control. Charlemagne showed great dexterity and composure in leading his team out of danger, to reach 180 for 8.
In addition to Charlemagne's 92, Nickson Edmund contributed 25. Bowling for Central Castries, Dillan John finished with 3 for 32, Jamaal James 2 for 16, and Auguste 2 for 24.
Auguste other hundreds to date were 112 against the Mabouya Valley in the opening game of the 2020 Saint Lucia First Division Cricket Championships, followed by 126 not out against Babonneau in the second game.
It must be noted that in the last three weeks, Auguste has scored 632 runs. He amassed 251 against a touring Worcestershire County 17-and-Under at an average of 82.66, with a healthy strike rate of 134.
Batting in the 2020 Saint Lucia National Cricket Association First Division Inter-District 2-Day Cricket Championships to date, Auguste has totaled 381 at an average of 190.50.