Sponsored

By Caribbean News Global
ST GEORGE'S, Grenada — Earlier this year, the Grenada Tourism Authority (GTA) quarterly visitor motivation survey reinforced that visitors continue to enjoy product and service offerings in Grenada, Carriacou, and Petite Martinique. Meantime, the citizenship by investment (CBI) programme and Range Developments with the world-renown Six Senses brand will help to further solidify Grenada's position as a top tourist destination – The Pure Grenada Experience.
"Of the sample surveyed at the end of their trip to Grenada, 59 percent stated that their trip was better than expected. Strong positive reviews were recorded in the areas of safety and security; 53 percent responded very good and 40 percent said good and Customer Service; 53 percent responded very good while 36 percent said good. Restaurants were rated highly with 48 percent responding very good.
"Visitors from Grenada's top-performing market in 2018, the US, gave Grenada significant positive ratings in the areas of safety and security. 68 percent of Americans rated the destination as very good in this area. The warmth and friendliness of the Grenadian people also featured prominently at the top of the list for what visitors mentioned as what they liked most about the destination. Their other top likes included: beaches, food, and climate/weather," the sample surveyed reported.
Chief executive officer (CEO) of the GTA Patricia Maher commented on the visitors' feedback said, "We are delighted with these positive reviews of Grenada, Carriacou, and Petite Martinique. It reinforces what we already know about these beautiful islands. We will continue to work with stakeholders to ensure that we exceed expectations and that everyone thoroughly enjoys their visit."
Minister for tourism and civil aviation Clarice Modeste Curwen welcomed the visitors' feedback and said, "Our warm and friendly people are our greatest assets in ensuring visitors have an excellent experience in our safe environment. Our festivals, natural beauty, beaches, and waterfalls are the icing on the cake. My ministry will continue to work on improving the Grenadian experience as more people discover our islands."
Grenada's approach to hospitality is infused with a warm charm which is apparent from its luxury resorts to barefoot chic boutique hotels and villas. A Pure Grenada experience that summons visitors to its 40 white sandy beaches, 15 breath-taking waterfalls, four chocolate factories, three rum distilleries and more than 30 unforgettable dive sites, including the largest shipwreck in the Caribbean 'Bianca C' and the World's First Underwater Sculpture Park.
The launch of Six Senses La Sagesse, Grenada, by Range Developments, August 23, 2019, is a sign of ongoing confidence in Grenada's economy. Grenada reduced its debt-to-GDP ratio from 108 percent in 2013 to 63 percent by the end of 2018. The country has noted six years of consistent, robust growth.
Six Senses La Sagesse Grenada means significant opportunities for Grenadians. Construction is expected to start by the end of this year and completion is expected in 2022. The project is expected to create more than 500 jobs during the construction phase.
The property will be built on a promontory in Saint David's Parish, an unspoiled area of remarkable natural beauty boasting 'one of the top ten beaches in the Caribbean' as described by The Sunday Times.
Range Developments is an international property developer focusing on high-end hotel resorts in the Caribbean that are well-designed, sustainable and desirable. As with other Range Developments' projects, investors will be able to participate in the project, and if eligible, apply for citizenship in Grenada.
With a minimum investment of USD$ 220,000, investors in Six Senses La Sagesse, Grenada, will enjoy attractive citizenship privileges for their entire family, and a chance to share in a winning partnership with Range Developments, already, the most successful developer of luxury real estate projects in the Caribbean.
Grenadian citizens can travel without visa restrictions to more than 130 international and Commonwealth countries. These include the United Kingdom and all other members of the European Union, and important business hubs such as Singapore and Hong Kong. Grenadian citizens enjoy unique access to the USA's E-2 visa, privileges to Europe, Russia, and China, are some of the benefits you enjoy with a Grenada passport by investing in Range Development government-approved project, Six Senses La Sagesse, Grenada.
There is welcome news of discussions between Grenada's foreign minister Peter David and India's foreign minister Subrahmanyam Jaishankar that the two countries are considering bi-lateral diplomatic agreements, including visa waiver. This means more value and opportunity for Grenadian citizens, visitors, and the CBI programme.
Grenada has direct flights from Grenada's Maurice Bishop International Airport to major markets in the  US, Caribbean, Canada, UK and Europe making the island accessible to visitors, investments options and to transact business in the comfort of the Pure Grenada Experience – "the Spice Island of the Caribbean."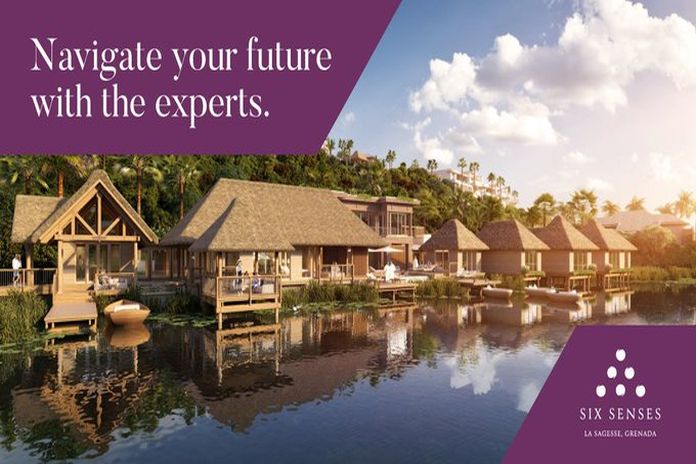 Invest in Grenada – An investment in Six Senses La Sagesse, Grenada is a chance to share in a winning partnership. Range Developments is the most successful developer of luxury real estate projects in the Caribbean.