By Chanel Spence
KINGSTON, Jamaica, (JIS) – The government is well on the way to providing the committed 70,000 solutions to the housing market. The objective is to address a housing deficit of approximately 100,000 units in the country.
Prime Minister, Andrew Holness, said that the National Housing Trust (NHT) has pledged to deliver 43,000 of the 70,000 solutions and 35,000 of these are at different stages of development.
"This means that they have [units] in the ground, they have come out of ground, they have completed or they have plans they have drafted, they have identified the lands or they have identified the developers to build those houses," he said. "So, they have another 8,000 to figure out," he added, noting that the Housing Agency of Jamaica (HAJ) is providing 15,000 units.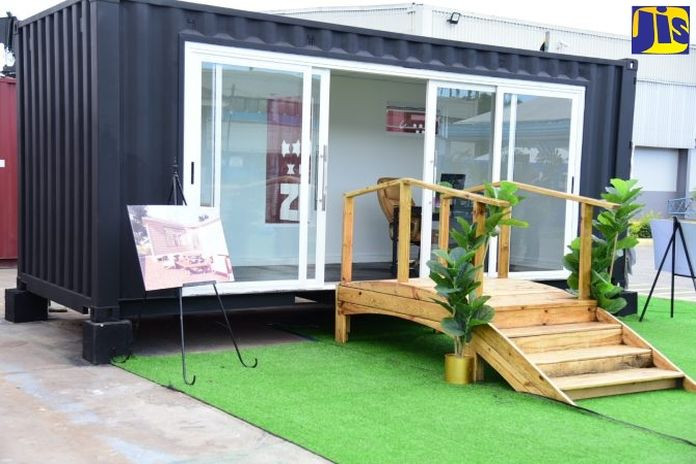 Holness provided the details while delivering the keynote address at a launch ceremony for Up-Cycled Container Homes being introduced to the market by Kingston Logistics Center (KLC) Limited on Wednesday, April 19. He noted that in working to provide suitable housing solutions, the identification of lands in proximity to infrastructure is one of the greatest challenges.
"If you select land without infrastructure, the cost of the unit is going to go up, so you want to get land that is in proximity to already built infrastructure. So, we don't really have that many options when it comes to finding lands that are readily and easily used for housing," he said.
Additionally, he pointed out that informal settlements and communities in need of housing upgrades will need "easily deployed solutions in the housing market".
It is against the background that prime minister Holness has welcomed the introduction of container homes to the local housing market. He noted that the pre-built units can be constructed in a shorter time at affordable rates relative to traditional houses.
"The size of the container home market in 2021 was estimated at $56.85 billion worldwide and it is expected to grow to $87.1 billion by 2029. We see how this is possible because companies that are involved in shipping, architecture, furniture, design and development, they are merging the technology to provide solutions to meet housing demand," Holness pointed out.
KLC currently offers six options, which include one-bedroom, two-bedroom and three-bedroom units ranging from $2.5 million to $12.5 million.
Each container home is sold with dry-wall insulation installed and can be customised with add-on amenities such as windows, doors, balconies and staircases.
Managing director of KLC, Kisha Williams-Hare, said there are "many possibilities" for using up-cycled containers for the provision of office spaces, storage and even Airbnb accommodations.
In her remarks, KLC board chairman, Michal Derfner, said that the units offer a sustainable option.
"Sustainability is not only recycling but also the community [and] how we are doing things differently. This is why we really want to promote this segment in Jamaica," she said.
KLC is an all-inclusive logistics facility with operations in Jamaica and Panama. The company provides logistics solutions across the Caribbean, including warehousing, distribution, packaging, shipping and exporting of consumer goods.