LONDON, England – The Belfast (Good Friday) Agreement left us an extraordinary and precious legacy, prime minister will say in Belfast, Wednesday 19 April.
He will return to Northern Ireland to address Queen's University's 'Agreement 25' conference and host a special Gala Dinner to commemorate the anniversary.
As part of the closing address to an audience of architects of the Agreement and global figures, the prime minister will say the best way to fulfil the promise of the Belfast (Good Friday) Agreement is to make good on our commitment to create jobs and opportunities for young people so they can fulfil their dreams and aspirations in the place they call home.
"Together we must fulfil the true promise of the 1998 Agreement…that future enshrined in the very words of the text – of "sustained economic growth", and where we tackle the problems of "a divided society". And I will give everything to help deliver that vision. The Belfast (Good Friday) Agreement promised prosperity and a more integrated society and we have work to do to deliver on that promise," prime minister Sunak is expected to say.
Praise will be given to the contribution of both peacemakers and the security forces who played a leading role to secure the stability we have now.
He will highlight their courage despite daily threats to them and their families – as well as the imagination and perseverance of the leaders to conceive of a system for sharing power and deliver it against the odds.
In a tribute to those who built the Agreement, prime minister Sunak, will reflect on an extraordinary political achievement and say:
"Courage, imagination, and perseverance. Those qualities brought an imperfect but enduring peace to a place taught to believe no such peace was possible.
"To all those who led us to that peace, including those  here in this hall and those no longer with us – let us take this moment to say to you: thank you."
The prime minister will argue that we can also fulfil the Agreement's true legacy of a better future for Northern Ireland – with a prosperous economy and a more united and contented society.
Northern Ireland has made significant economic progress in the last 25 years. In April 1998, Northern Ireland had the highest unemployment in the UK at 8.4 percent, and now it is the second lowest at 2.4 percent.
He will reaffirm his ambition for Northern Ireland to attract greater investment and highlight its thriving cyber and life sciences sector – as well as its financial services and creative industries.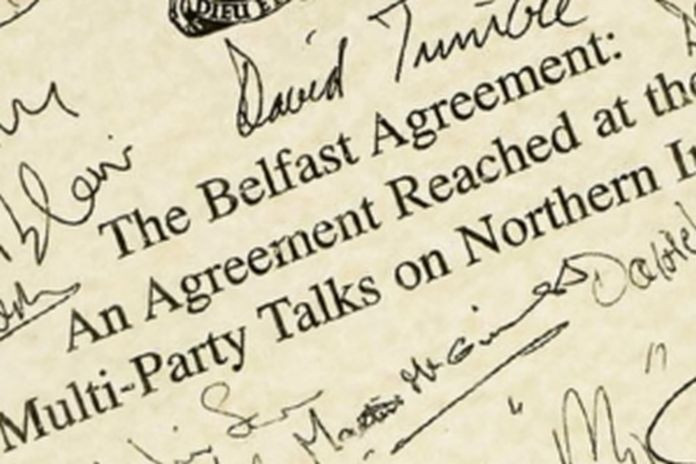 According to the prime minister's office, 10 Downing Street, he will say:
"I know that journey to prosperity won't be easy – and we aren't there yet. But this is my commitment to you: I will use the full force of the UK government to help you make this one of the best places in the world to start and grow a business, create jobs, train and learn new skills, and attract investment."
The prime minister will meet with some of the leading architects at the Gala Dinner later that evening, along with Irish and US representatives, and welcome guests with opening remarks to the Gala Dinner. The dinner will also be attended by political leaders, international dignitaries and leading charities.
The Dinner will round off the recent period of prime minister-led events to mark the anniversary and strengthen efforts to support our vision for a prosperous 25 years ahead.
This follows president Biden's visit to Belfast last week where the prime minister and the president celebrated the progress that Northern Ireland has made over the last quarter of a century and recommitted to building an even brighter future for Northern Ireland.