By Caribbean News Global

ROSEAU, Dominica – Addressing the United Workers Party (UWP), authentic cohorts, opposition leader Lennox Linton called on the Dominica Police Force and the legal state entities to investigation the alleged sale of Dominica's diplomatic passports as documented by Al Jazeera that implicates his apparent 'willful blindness' albeit 'premeditated deception' with signature affixed to documents collaborated by witnesses of his proclivity.
"The police need to get involved, and I am calling on the commissioner of police Daniel Carbon [this evening], to launch an immediate investigation…" Linton uttered. And in similar desperation, called on the president of Dominica, His Excellency Charles Savarin, for a full-scale commission of inquiry.
The incompetence of Linton sheer morass to suggest 'investigate the investigator' for allegations of corruption, nepotism, abuse of office and the alleged diplomats for sale is captured in the music of The Mighty Sparrow – 'Only a fool breaks his own heart'.
The utterances of opposition leader Linton 'willful blindness' albeit 'premeditated deception' apparently overlooked his confession that Sam Raphael had delivered a "body blow" to him and his UWP – Al Jazeera's documentary that exposed "illicit" pursuit of campaign financing, by means of assigned documents promising diplomatic passport and ambassador appointments in exchange of USD$400,000 ahead of the December 6, general election.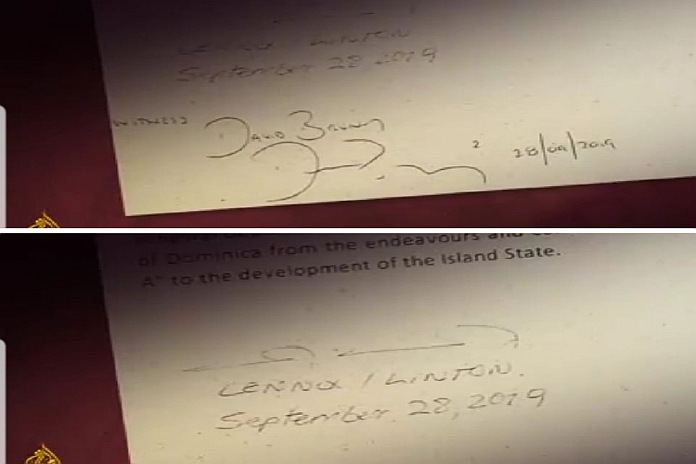 Linton was also mentioned in that report concerning allegations that his lawyer, David Bruney, spoke on his behalf to receive campaign funds in exchange for a diplomatic passport. However, both Linton and Bruney have denied those allegations, oblivious, of the UWP – Al Jazeera documentary.
Elections are expensive, and "funds are needed very urgently as T-shirts, vehicles, PA systems, and various supplies" are urgent for operations, is indifferent to code declared as "humanitarian donations for Dominica" or "a token of appreciation".  Lawyer David Bruney, confirmed that it's an easy access to opposition leader Linton through him and he's speaking on his behalf – further says, "opposition now really requires funding, make no mistake we are moving along, but as all things financial contribution is required."
Apparently, the version of Al Jazeera's document Linton viewed was in Arabic and beyond his interpretation. Quite naturally, he missed what implicates his bottomless participation.
Al Jazeera's documentary exposes Dominica's opposition leader pursuit of campaign financing
Nevertheless, in a so-called address to the nation [UWP cohorts] after dark deeds we brought to light, which shocked many Dominicans, Linton said his party is crystal clear on the matter, his state of mind purge that, "We will criminalize the practice. We believe it is a serious offense against the United Nations 1961 Vienna Convention on Diplomatic Relations."
"Within 100 days of a UWP administration, we will enact the prevention of the sale of diplomatic immunity act which will prohibit any attempt to sell or any sale of diplomatic passport, immunity or ambassadorship," he said. Noting that it will be done in the public interest of Dominica and "the family of nations."
"No longer should we be a country where the government is selling diplomatic passports which ends up in the hands of criminals who go out seamlessly across the borders of the international community to commit their crimes against humanity. It is wrong, it is criminal, it must come to an end. We are standing firm in that regard," Linton said. While no explanation was offered for his deeds applicable to the UWP –Al Jazeera documentary.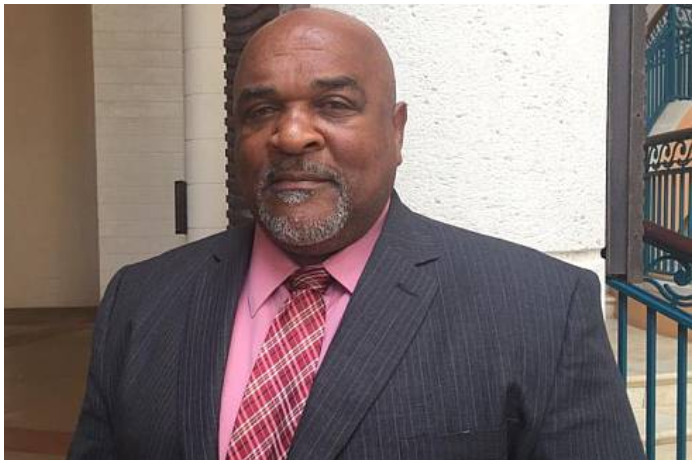 Insisting that the tables have turned on the UWP after the airing of the Al Jazeera documentary, deputy prime minister, Reginald Austrie described as "their failed attempt of writing false information about the Dominica Labour Party (DLP) over the years to discredit the country in the eyes of the international community.
"The UWP were the ones who started working with Al Jazeera and have colluded with a bunch of international criminals which has brought both his party and country in disrepute adding that, it has been ten years since the UWP has been falsely attacking Dominica's prime minister and accusing him of all sorts of immoral and criminal activities.
"[Lennox] Linton went to the United States and told the American government that Roosevelt Skerrit is guilty of selling passports to criminals hoping that the United States would issue an embargo on this country, that would bring our economy to its knees," he said.
Nevertheless, deputy prime minister Austrie explained during a campaign rally, that the Citizenship by Investment (CBI) programme was essentially the country's main source of funding after hurricane Maria in 2017. Ever since, CBI sponsored countless projects followed the 'build back better' and the national policy to become 'the world's first climate-resilient nation,' guaranteed by prime minister Skerrit, is helping to diversify the economy.
"All of us here know that maybe our only source of income, especially after hurricane Maria, is the CBI programme," admitted Austrie. "Every single one of us here can attest to the benefits that we have accomplished under the CBI programme. We have been able to continue all our programmes because of the CBI programme. We have been able to create a new economy," Austrie said.
This is substantiated by prime minister Roosevelt Skerrit as he frequently performs, in the face of conspirators seeking to derail the achievements of the country, heading into the December 6, general election, stated, "Citizenship by Investment (CBI) has been a lifeline for Dominica and continues to change lives."
Dominica has entered the desirable journey towards economic growth, with a spectacular comeback following hurricane Maria. The achievements in the 'Nature Isle of the Caribbean', Dominica, and sheer determination has the international community in awe coupled with a permanent impression from the inspiration of Dominica's management of the CBI programme. No participating CBI and/or regional country has advanced at the level of Dominica's socio-economic policy and rate of implementation, to build 6,000 houses throughout Dominica, under contract by Montreal Management Consultants Est (MMCE).
However, similar CBI-funded projects are replicating Dominica to benefit the local population in Europe. The Cyprus government has unveiled a plan that parallels Dominica Housing. The aim is to provide affordable homes that are determined by the European Commission as housing that costs under 30 percent of the household's gross income and partly financed by Cyprus CBI programme.
So, ideally, prime minister Skerrit and Dominica are leading the way on what is feasible when the correct mix of leadership, financing, and implementation exceeds a model of UWP jokes and suicidal proposition from opposition leader Linton to 'investigate the investigator'.
Consequent to the achievements of Dominica and the CBI programme, Sam Bayat, Esq. of Bayat Legal Service, further proposed, A 'Peoples' Plan' – SME's and resource development essential for CBI programme.
"The CBI programme must be sustainable and relevant to everyday people, visible and rewarding in nation-building. Therefore, there should be a commitment to fund industry, develop human resource, generated high-paying jobs in technology, agriculture, tourism, housing development, healthcare – medical specialist, air and seaport development, to facilitate high returns and added-value in 'A Peoples' Plan,' " Bayat said.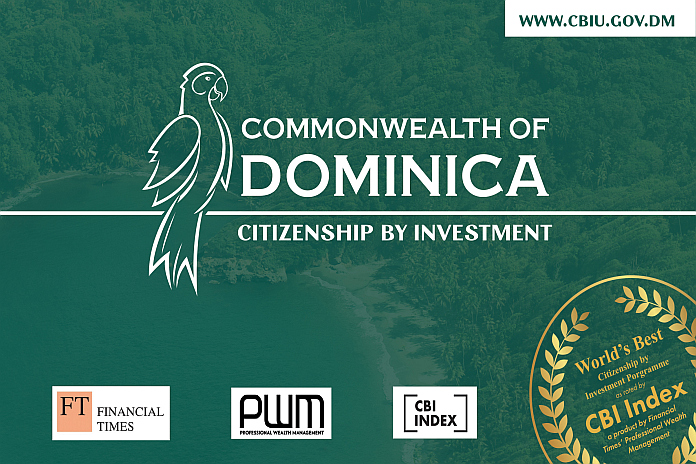 Absent Linton's 'willful blindness' albeit 'premeditated deception' – PricewaterhouseCoopers produced an extensive assessment of Dominica's CBI programme for the past five years. The report concluded that "CBIP-funded public expenditure generated tangible impacts on almost every aspect of life in Dominica"
Ernst & Young, British financial firm Smith & Williamson, and eminent Queen's Counsel Balraj Bhatia all pledged for Dominica's integrity, concluding that CBI could not be used as evidence of tax residence, therefore dispelling any myths where the two concepts were often confused. Dominica scored so well against various indicators valued by investors and was called a model for transparency and accountability of CBI funds, that it was officially declared as offering the world's best economic citizenship.
The Financial Times' PWM released a documentary unravelling just how much the CBI funding helped transform the island into a pristine ecotourism destination, ripe for sustainable investment opportunities.
The new 7MW geothermal plant, partly funded by CBI, will provide the island with clean energy, lower electricity costs for the public and private sector, and ensure energy security in the long term.
Further, the government of Dominica has been putting aside millions from the CBI programme to raise funds for the construction of a new international airport, "the only missing link" to catapult Dominica onto the global tourism scene, though still keeping in mind the quality-over-quantity principle.
Dominica is becoming the Caribbean destination of choice for the ideal vacation, while the ministry of tourism's goal is to ensure visitors have the best experience on the island. A new cruise village and port, also CBI-funded, will complement the island's regional connectivity and put Dominica firmly on the cruise map.
Dominica's strategy is by far not a race to the bottom, but quite the opposite, in a league of its own to 'build back better' and the national policy to become 'the world's first climate-resilient nation.' This conforms with the 'Nature Isle of the Caribbean' Dominica, added advantage to eco-tourism, business development and a sustainable standard of living.
In contrast, Linton's, 'willful blindness' albeit 'premeditated deception' to campaign financing, inconclusive disclosures, and his calls to 'investigation the investigator' – is an ugly display of lingering trauma and disgracefully representation.
Linton's, political grandstanding with shallow rhetoric is grossly insufficient to score political points amid Dominica's advancement. His disingenuous pronouncements of the truth and facts are inadmissible even in a sidebar [Soca-Rum] argument. And his platform rhetoric is contingent to shame and disgrace to a very successful failure in the representation of nothingness.
On December 6, the people of Dominica will decide good over evil, progress oven stagnation and continue as a resolute country winning over a wide spectrum of international stakeholders and accolades, on the mission to 'build back better' – determined to become 'the world's first climate-resilient nation.'