CASTRIES, St Lucia — The Saint Lucia Tourism Authority (SLTA) has commenced its winter promotion targeting consumer and trade audiences across North America in October, pushing the destination's profile ahead of the busy winter season and promoting destination updates to a wide variety of audiences.
This winter, UK holidaymakers can take advantage of a new month-long promotion to facilitate UK holidaymakers to take advantage of a new month-long promotion.
Up until the end of October, sun-seekers can book a holiday in Saint Lucia and enjoy some winter sun or book ahead for their summer holiday, saving up to 70 percent. There are 12 tour operators taking part, including Blue Bay Travel; Simply St Lucia; Trailfinders; Best At Travel; Classic Collection; Tropical Sky; Sackville Travel; Dial-a-Flight; ITC, Kenwood Travel; Caribtours and LetsGo2. This means there is a range of holidays on offer to suit all budgets and tastes.
The 'Winter in Saint Lucia' campaign has a dedicated offer landing page www.stlucia.org/offers on the Saint Lucia Tourism Authority's website featuring the 12 tour operators as the call to action.
SLTA UK Director, Patricia Charlery-Leon said "Every year we are able to offer fantastic savings at this time of year through our tour operator partners. Saint Lucia is perfect for a relaxing or active holiday so suits all tastes from families to honeymooners."
The deals are supported by an extended consumer and trade advertising campaign from SLTA with press advertisements in The Times, Telegraph, Metro and Evening Standard alongside digital takeovers in The Times and Telegraph. Lifestyle magazines are also part of the buy with the increasingly important niche media including wedding, diving, birding, yachting, and diaspora media.
Other activations include outdoor billboards, radio and digital ads, consumer e-newsletters, and social media postings.
Meantime, Saint Lucia made the list of ten of the world's most beautiful islands'. 
"Bright-painted houses are strewn like confetti across St. Lucia's steeply pitched slopes, which veer from rocky summits to the Caribbean shoreline."
"A matched set of volcanic peaks, the Pitons, are the spectacular centerpiece of this beautiful island. Lush forest at the base of the mountains, which are part of a UNESCO World Heritage Site, give way to miniaturized "elfin woodlands" at higher elevations. Here, look for fairy-sized hummingbirds, delicate ferns and trails shrouded in mist.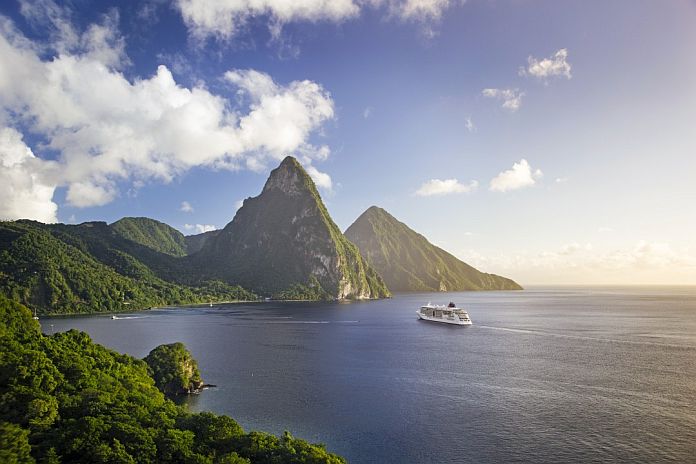 The SLTA winter promotions will also include specialized familiarization trips, together with a series of targeted road and trade shows, among other exciting collaborations.
Throughout October, SLTA representatives in the US and Canada will dialogue with trade and industry partners, apprising them of the latest developments, such as the additional airlift to the island out of the Midwest, all in an effort to drive sales and keep the destination top of mind.
Among the main highpoints is a Canadian Luxury Fam that brings together nine highly sought-after elite travel agents from key Canadian gateways, to explore a dozen of Saint Lucia's most luxurious properties along with iconic sites and attractions. Saint Lucia is also expected to make a splash at the acclaimed Simcoe Country Bridal Show, held in partnership with Selloffvacations.com in Barrie, Ontario, Canada, where the destination's status as Top World's Leading Honeymoon Destination will be exhibited.
Saint Lucia will also participate in one of the world's largest and most prestigious sailboat shows in October, seeking to build its reputation as a prime sailing & yachting destination. The consumer-oriented Annapolis Boat Show slated for October 10-14, in Maryland, USA, caters to soft adventure and marks its 50 anniversary with attendance of sailors from around the world. SLTA officials will also meet one-on-one with top executives of the major cruise lines for crucial talks, when the 2019 Florida-Caribbean Cruise Association (FCCA) meetings convene in Puerto Rico from October 21-24, 2019.
"As we usher in October as Creole Heritage Month and accentuate everything authentic about Saint Lucia's rich and diverse cultural patrimony, we are equally excited about the plethora of trade and consumer activities happening in our major international source markets," notes Saint Lucia Tourism Authority chief executive officer (CEO) Beverly Nicholson-Doty.
On the island, the hosting of the 2nd annual Expedia Day of Caring on October 5, is expected to generate much interest, as industry officials team up with the staff of the SLTA and other tourism representatives, to play their part in advancing environmental conservation.
Also on the October agenda is "Inspired by Saint Lucia," (IBS) a Mid-Western Roadshow with multiple touchpoints from western Michigan, Indiana, Iowa and Wisconsin. The roadshow will include meetings, incentive planners, media, consumers and travel trade. A primary objective of the series is to share news about the new non-stop service on American Airlines direct from Chicago starting December 21, 2019, in time for the winter season.
Additionally, the SLTA will inform on destination updates, while creating immersive experiences in partnership with stakeholders.
While in Chicago, senior SLTA executives and hotel reps will host a press event to share news about Saint Lucia and promote the new American Airlines Chicago flight to print, online and broadcast media.
The event will drive interest in news stories about the destination, building awareness among Chicago and midwest consumers.