By Caribbean News Global contributor

ROSEAU, Dominica – Housing Dominica handing over ceremony last Saturday, September 14, 2019, delivered twenty-four keys to families for their new homes in Georgetown, Portsmouth, while forty-four families will receive the same privileges within three weeks, changing lives in the process.
Castle Bruce, La Plaine, and Grand Fond are expected to hold ceremonies as well, enlisting Pointe Michel, the Kalinago Territory, and Bellevue Chopin, all aimed at developing lives through housing.
Prime minister of Dominica Roosevelt Skerrit has indicated that he will be unveiling new comprehensive housing programs aimed at providing adequate housing for everyone in Dominica: "One of the primary objectives in life is to have shelter. If this is not development, then tell me what it is?" Skeritt inquired.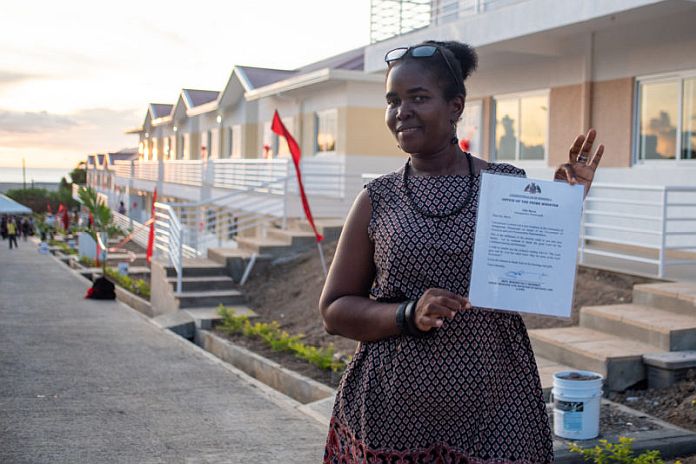 For some countries, a common approach to building resilient infrastructures is through grants, lease to own, subsidized loans and other financial initiatives. However, the government of Dominica is the "exception from the norm."
Led by the vision of prime minister Skerrit, Dominica introduced its first housing initiative – Housing Dominica in the aftermath of Tropical Storm Erika in 2015 and Hurricane Maria in 2017.
"From the seeds of Maria's destruction, grew my administration's policy initiatives and actions to build the first climate resilient nation in the world and to usher Dominica into a bright future," Skerrit said. Two years later, that vision is now a reality, changing lives.
The development of Housing Dominica is entirely funded by the citizenship by investment (CBI) programme of Dominica.
Dominica CBI programme inspiring confidence from world-leading brands
"We have had the CBI program since 1993 and the only tangible things that you have seen the CBI has done for Dominica is under this Dominica Labour Party (DLP)," Skerrit stated. "This is the only party that can point to housing and infrastructure that have been done in the country utilizing these funds. So, we are grateful for this medium for raising funds."
The programme offers global investors and their families a means of acquiring citizenship with the option of either contributing to a government-held fund or buying into pre-approved eco-friendly real estate. Investors in Dominica gain access to immigration benefits, such as increased global mobility and the ability to secure a safe future for themselves and future generations.
Had it not been for this CBI funds, Skerrit said, "And not only the CBI funds in itself", but the prudent management of the funds, "we would have been in great difficulties after hurricane Maria."
The government aims to build 5,000 houses throughout the country in collaboration with Montreal Management Consultants Est. (MMCE), led by Dr Anthony Haiden.
All new buildings are constructed from a reinforced concrete technology, equipped with hurricane proof windows, underground services. This is the first large scale installation of fibre optic services to an entire community on the island. All the utilities are underground thus making the re-connection of these a rapid process in the event the main services are lost.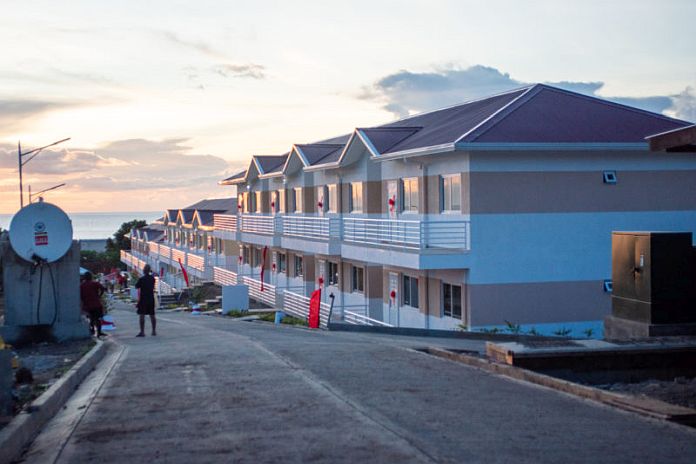 The homes are designed and built to the European upper middle-income standard with all two- and three-bedroom homes, two fully fitted bathrooms and a fully fitted kitchen along with generously sized rooms. The homes are in excess of 1,600 square feet.
Dominica is on a development path and a clear growth trajectory. National recovery has been led by prioritizing climate resilient techniques, sustainability development practices building resilient homes and infrastructure, eco-tourism, the CBI programme, institutional governance and a stable governing apparatus. Last year, an economic and technical agreement amounting to EC$120 million was signed for various agriculture, education, health, and security projects.
Inventive of the committed to make Dominica the first climate resilient nation, "building back better" accentuates the theme of recovery and reconstruction to address physical, environmental, and socio-economic susceptibilities to provide the opportunity to rebuild and develop lives through home ownership and wealth creation.
Building housing beyond pre-disaster conditions for safer, more sustainable and resilient communities is good policy to being better prepared to mitigate the effects of natural disasters.