By Caribbean News Global

TORONTO, Canada – The Taipei Economic and Cultural Office (TECO) in Geneva announced Friday, that Taiwanese representative in Geneva, Su Ying-chun (蘇瑩君) and US Chargé d'Affaires Benjamin Moeling, met to discuss matters of multilateral cooperation, including global public health and pandemic response, further cooperation on international issues and with counterparts on a full range of issues.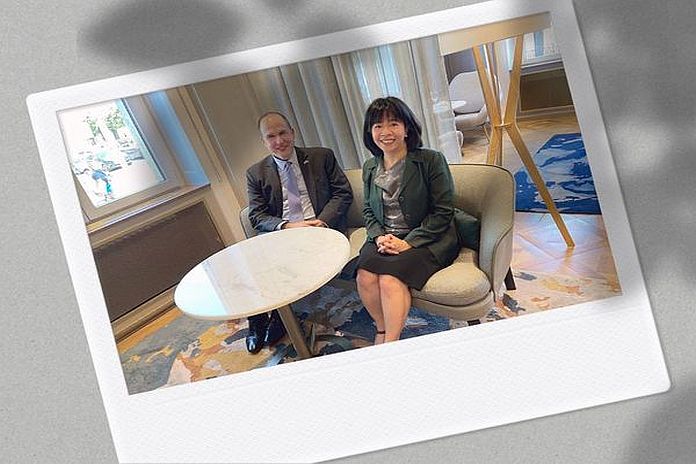 "Great pleasure meeting with Chargé d'Affaires Benjamin Moeling," reported, Taiwan in Geneva, Ying-chun. "We are delighted to see Taiwan has an extensive and growing partnership with USA. Looking forward to further strengthening our work with US Mission Geneva to address global challenges."
US – Taiwan relations are now considered inextricably linked to forging economic, security, education, trade, technology and innovation, investment, and in particular foreign policy to help advance US – Taiwan interests globally, reported by Caribbean News Global (CNG).
US – Taiwan initiatives a permanent partnership is also notable with the passage of H.R. 3524, the Ensuring American Global Leadership and Engagement (EAGLE) Act, out of committee, last Thursday, July 15.
The Biden administration, the White House and Congress have increased their commitment to strengthening US – Taiwan relations, most recently, as reported by the Ministry of Foreign Affairs (MOFA). "Communicated with the US beforehand, (a recent visit to China by Deputy Secretary of State Wendy Sherman) and the US will also brief us afterwards, as usual, to explain the details of the talks, "emphasizing that "Taiwan – US relations continue to be close and friendly."
US – Taiwan relations have taken on new impetus on multiple fronts that have expanded globally in areas of diplomacy and democracy, foreign policy, the economy, trade and investment, US – Taiwan education initiatives, the military, defending peace and stability in the Indo-Pacific and sovereign interest.
Consider the following:
May 1: The American embassy in France invited the Taiwan envoy for lunch;
May 25: The US charge d'affaires in Japan met with his Taiwan counterpart;
July 13: The charge d'affaires of the US embassy in Hungary, Marc Dillard, invited Taiwan's envoy to the Central European nation, Liu Shih-chung (劉世忠), to his official residence, where they shared their views on issues of common concern;
July 15: An air services agreement between Taiwan and Germany was signed virtually;
July 29: MOFA reports a trilateral strategy forum aimed at deepening cooperation and strengthening ties between Taiwan, Japan and the US was held.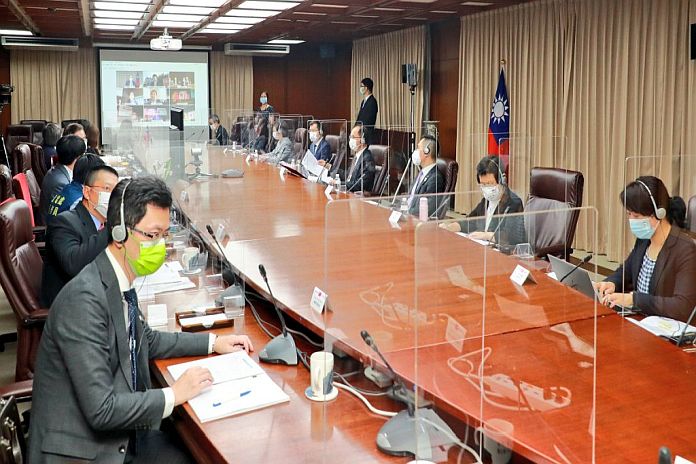 Participants at the trilateral strategy forum included legislative Yuan president You Si-kun; US Senators Bill Hagerty and Ed Markey; US Representative Steve Chabot, and former Japan prime minister Shinzo Abe.
"Great legislative minds tackled the big issues impacting #IndoPacific peace, stability and security at the 1st #Taiwan, #US, #Japan strategy forum," said the MOFA tweet.
Having unequivocal agreeing on the importance of expanding multilateral cooperation on cross-strait security and supporting Taiwan's bid to join the Comprehensive and Progressive Agreement for Trans-Pacific Partnership (CPTTP) – a free trade agreement between 11 countries include Australia, Brunei, Chile, Canada, Japan, Malaysia, Mexico, New Zealand, Peru, Singapore and Vietnam.
Meanwhile, Taiwan is leveraging health care prominence during the COVID-19 pandemic, its semiconductor technology dominance is successfully sharing technology with like-minded countries around the globe. Supply chain issues are currently falling in line, away from previous dominance. And Taiwan's geographical advantages and investment partners are taking root, with expansions in Artificial Intelligence (AI) and research and development (R&D).
In recent developments, Asian Development Bank (ADB) forecasts "Recovery is underway in developing Asia, but the growth projection is revised down slightly from 7.3 percent in April to 7.2 percent for 2021 following renewed virus outbreaks in some economies. The 2022 forecast is upgraded from 5.3 percent to 5.4 percent.
Highlights offered the following:
East Asia's 2021 growth forecast is raised from 7.4 to 7.5 percent, reflecting a strong first quarter. Expansion in the People's Republic of China is still projected at 8.1 percent in 2021 and 5.5 percent in 2022 as favorable domestic and external trends align with April forecasts.
In South Asia, new waves of infections prompt a lower growth forecast of 8.9 percent for 2021, followed by growth at 7.0 percent in 2022. India's 2021 growth projection is downgraded from 11.0 percent in April to 10.0 percent. followed by 7.5 percent growth in 2022.
The forecast for Southeast Asian growth in 2021 is downgraded from 4.4 percent to 4.0 percent as some countries reimpose pandemic restrictions, followed by 5.2 percent growth in 2022.
Central Asia's growth prospects for 2021 are revised up from 3.4 to 3.6 percent. The Pacific forecast, by contrast, is slashed from 1.4 to 0.3 percent as Fiji tightens containment measures.
Regional inflation is expected to remain benign, the forecast revised up marginally for 2021 from 2.3 to 2.4 percent but unchanged at 2.7 percent for 2022.
With this in mind, US – Taiwan relations and investments underscore the continuance of socio-economic, contributing to GDP growth and development.
Importantly, Taiwan's economy based on advance estimates by the Department of Statistics, Directorate General of Budget, Accounting & Statistics (DGBAS), the real gross domestic product (GDP) increased by 7.47 percent on a year-on-year basis (yoy) in 2021Q2, contracted 7.86 percent on a quarter-on-quarter seasonally-adjusted annualized basis (saar).
Full text and tables (PDF)
Taiwan's international agenda in paying dividends. Its international support and foreign policy are heading in the right direction, guided by a president of Taiwan Tsai Ing-wen (蔡英文)  albeit the tactics from competitors, unsurpassed in decades.