By Caribbean News Global

TORONTO, Canada – A recent headline in international news distribution dated, October 8, 2020, says, "Saint Lucia rides COVID storm as good governance boosts international investor confidence" has perhaps unleashed creative writing to discover fictional experience know to aliens.
In the light of the situation in Saint Lucia, Denys Springer explained in a commentary October 11, "There are more questions than answers in Saint Lucia: "The [Allen] Chastanet generation of [United Workers Party] UWPs are propagandist, deceptive and half-truth storytellers, all of which are prominent in the miscreants of Cabinet and the executive branch that governs Saint Lucia".
The news release with a media contact, Tajma Brown, Saint Lucia Citizenship-by-Investment Unit said: "The prime minister of Saint Lucia, Allen Chastanet, says global investor interest in the country has not been curtailed by COVID-19. Speaking at the launch of the St. Lucia Citizenship-by-Investment Program's new brand visual identity and website, prime minister Chastanet said the Caribbean island nation has been exemplary in its handling of the pandemic, which has served to increase investor confidence and ensure that applications to the St. Lucia Citizenship-by-Investment Unit have continued to grow, with an impressive double-digit percentage increase in applicants in recent months."
The release continued: "The current crisis has caused many business owners and investors to realize that they can operate remotely and that there's no need to be based in the big cities. Saint Lucia's high-speed broadband network and direct flights to the US and London enable easy access to the rest of the world. Our uncompromising commitment to the highest standards of good governance, coupled with favorable head office legislative provision, makes it attractive for companies to move their headquarters to Saint Lucia. We are still on track to meet our target of doubling our GDP in the next six years."
According to the press release, prime minister Chastanet explained that inflows from the program are placed into a national economic fund managed by an independent board and are used to build capacity, reduce debt, and make capital investments in Saint Lucia.
"Everything that the country was focused on pre-COVID has become even more relevant now: investment in education, building an e-government platform, simplification of the tax regime, investment in infrastructure, modernization of the security force and of the judicial system, and broadening the tourism offering. The citizenship-by-investment program can be a key source of funding in helping us to facilitate these developments, which is why we are constantly and vigorously engaging with key external stakeholders, including governments and supra-national organizations, to ensure that our investors retain the international market access that drove their initial investment decision."
The press release also stated: "In May, Saint Lucia was the first Caribbean country to announce a new investment option for a limited time in response to the coronavirus pandemic. To qualify for citizenship via the COVID-19 Relief Bond option, which runs until 31 December 2020, an individual is required to make a minimum investment of USD 250,000 in a non–interest-bearing government bond that needs to be held for five years."
Notable, to secure Saint Lucian citizenship starting at USD$100,000 with visa-free access to 146 destinations is said to offer, "The long-term growth and legacy options that Saint Lucia offers can yield ongoing and exponential value for international investors, " said Nestor Alfred, chief executive officer of the St. Lucia Citizenship-by-Investment Unit.
Relative to the content and realism of the revelations alluded to above, Vaclav Havel once said, "to respond to evil by committing another evil does not eliminate evil but allow it to go on forever".
On October 2, the government of Saint Lucia used 'disposable Senators' on a second attempt to convene an unconstitutional and illegal Senate to approve draconian legislation, the COVID-19 (Prevention and Control) Bill.
Meantime, the Saint Lucia Tourism Authority continues to welcome people back to Saint Lucia with the release of the second video in the 'She is Saint Lucia … Let Her Inspire You' series. The new film aims to inspire more visitors as it showcases the destination as an ideal getaway.
As expressed in a letter 'Saint Lucia's management of COVID-19 crisis' alongside the government indicative borrowing on COVID-19, "Many have expressed their view that it will take several years for tourism to recover to pre-pandemic levels. Besides, even though our vulnerability to tourism had been woefully exposed, the government has seen it prudent to place more emphasis on the sector at this time."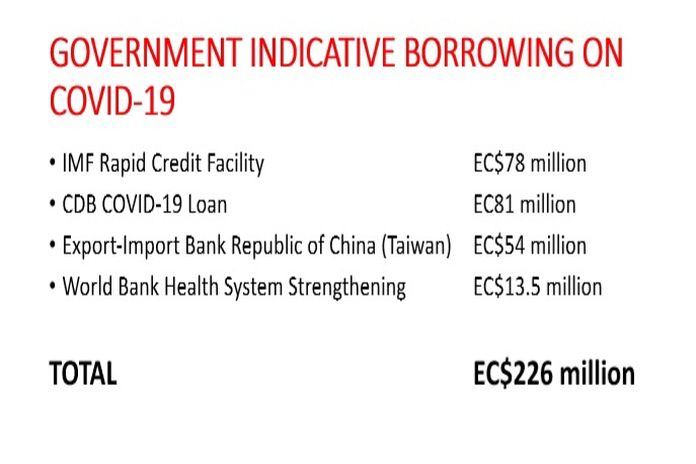 The illustration above may assist to question the prime ministers' assertions that "inflows from the program are placed into a national economic fund managed by an independent board and are used to build capacity, reduce debt, and make capital investments in Saint Lucia."
Meanwhile, many are aware that Saint Lucia is a 'collapsing economy', there are untold pronouncements of vacillation between conciliatory remarks and recriminations in the prime ministers' update to the nation, October 11, 2020.
LIVE Update to the Nation (Oct. 11, 2020)

LIVE Update to the Nation with Prime Minister Hon. Allen Chastanet, Chief Medical Officer Dr. Sharon Belmar-George and Commissioner of Police Severin Moncherry.Officials update the nation on Saint Lucia's COVID-19 response. Nationals are reminded to observe the protocols put in place to prevent community spread of COVID-19.Watch LIVE:NTN Channel 122https://www.facebook.com/SaintLuciaGovernmenthttps://www.youtube.com/SaintLuciaGovernment

Posted by Government of Saint Lucia on Sunday, October 11, 2020
For intuitive minds watching and listening to the broadcast, the prime ministers' utterances and ostensibly un-kept appearance were predictable [deficient of fact and forward guidance] to accompany pretence crying, the offering of "hypocritical" sympathy to an Independent Senator who was aggrieved on October 2, while asking opponents to work together when it is convenient to him.
Chastanet recited government is broke. "It is no secret the government has exhausted all of the efforts, all of the resources with the National Insurance Corporation (NIC) and donor agencies to provide a social stabilisation programme for the public and for those persons who have lost their jobs. We have no more money. What we are hoping to do is to regain the strength of our economy so many persons can be re-employed. The reality is we have a battle. […] "
Is this coded language aimed at reinforcing public servants to forego between 35-60 percent of salary, suspension of civil servants' promotion, and the mix of bonds and cash options, for civil servants including ministers of government salary and backpay?
Now, more than ever, the Chastanet government and the minister for economic development, Guy Joseph, who professed to know how to make money, must show slate. But more expectedly, Chastanet and his Cabal Cabinet out of their capability, on the health, economic and security crisis illustrated repeatedly. "I don't listen … " he infamously said.
The conundrum facing Saint Lucia with prime minister Chastanet accumulating by decree, widespread powers with the aid of a so-called attorney-general, the trappings of governance, Speaker of the House of Assembly, president of the Senate and eleven members of parliament, represents a clear danger to themselves, the rule of law and Saint Lucia.