By Caribbean News Global contributor
ROSEAU, Dominica – Opposition leader, Lennox Linton is attempting to clear his persona following the Al Jazeera documentary that exposed campaign financing, under-the-radar tactics, a track record of "corruption and coercion" in the interest of securing the outcome of general elections, on December 6."
"Understand what you just saw in the Al Jazeera documentary. You saw a number of politicians being accused of involvement in one way or the other and at the backend of the programme, you saw the Al Jazeera report seeking to tie [Lennox] Linton into a deal to selling diplomatic passports, it never happened." Linton explained.
But meantime there's nothing plausible to defend or deny, the evidence speaks for itself and soon the jury will decide. The electorate needs to know who and what they are voting for and should not be manipulated.
The fall-out is real. Just ask Sukie.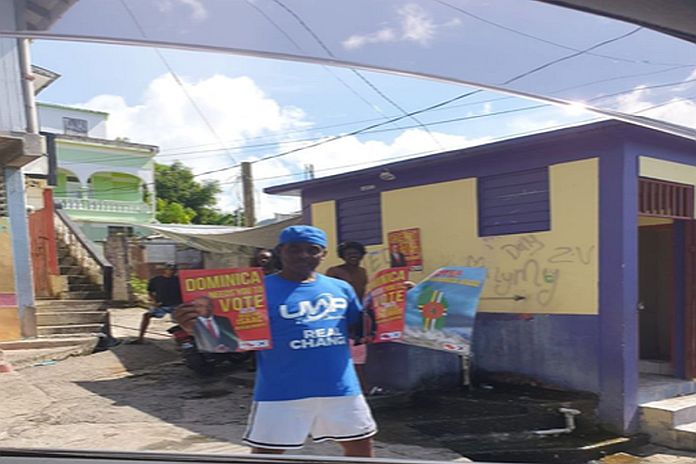 Many are inquiring why prime minister of Dominica, Roosevelt Skerrit, has not given an opinion on the matter. But more objectively – why should he when he has remarked "Al Jazeera of being an agent of the opposition United Workers Party (UWP) in Dominica."
More fundamental is the closing minutes of the documentary making the case that attorney, David Bruney and former prime minister Oliver Seraphine appearing prominently in direct involvement with opposition leader Linton, for securing a diplomatic post for someone while Linton is purportedly campaigning for the upcoming general election on a platform of anti-corruption.
Secondary to that, is the Memorandum of Understanding (MOU) most ordinary minds would like to have a read on, rather than a legal explanation from cleaver minds.
"The substance of the (MOU) that I signed with David Bruney," Linton added, "As Al Jazeera has noted [it] has absolutely nothing to do with the exchange of money for diplomatic immunity, diplomatic passports or ambassadorships. They have said that in the story."
"I can only tell you what went down between David Bruney and myself and the substance and truth of the document that Al Jazeera claims to have," Linton said.
"Why was it not possible for Al Jazeera to use the WhatsApp chat messages their plant, the Al Jazeera undercover agents sent to my phone and the single conversation that we have, it had absolutely nothing to do with any diplomatic passport, or any ambassadorship or any diplomatic immunity in exchange for money, nothing," Linton query.
In a mockery of cleverness, Linton states: "Within the first 100 days of our administration… an act to prevent the sale of diplomatic immunity."
But what really is an asset recovery ambassador?
"The idea of a MOU came up, whereby, not for money, not for any benefit to Linton personally or myself, this document was crafted, no," Bruney stated.
"Critical to such appointment it is necessary and imperative that the said be of good and unblemished character as a potential appointee to the diplomatic corps of Dominica, and the essential requirement that such an appointee be capable of satisfying all aspects of a due diligence inquiry," Bruney stated.
The language of "humanitarian donations for Dominica" and "a token of appreciation" and to a less extent international contacts has drawn the scrutiny among highly-skilled attorneys – seeking to estrange affiliation.
One argument is such that: "In in the first instance, such an agreement would be for a period of 24 months with renewal dependent on the benefits accrued to the people of Dominica from the endeavours and contributions to the development of the island state," Bruney argued, "Now let me just ask a commonsensical question: who is going to pay money for that? This is the document that would regulate any ambassadorial relationship. Would you pay a million dollars for this?"
"First of all, you have to pass through due diligence. Secondly, the document doesn't speak to any payment of money," he said.
With denials of claims coming for players in the Al Jazeera documentary cynicism is by no means commonsensical of an electorate demanding their share of the national cake, [ before election day ] while the remnants of Cambridge Analytica whose face and voice are obscured operating under a new name, in Dominica, St Kitts and Nevis and Saint Lucia.
The problem is Cambridge Analytica never left the Caribbean. So, the ignited political wildfires that continue to rage even in Dominica is really another attempt to get into power and recycle a primary passport merchant to the very hypocrisy of citizenship-for-sale business and diplomatic passports.
The strategic objective is to supply money and campaign provision – while deploying bribes and stings are not fabricated and foolish – an should not be seen as entrapment, but tactics and indirect objective of counter operations.
If behavioral and legislative change continue to be bottled up, many more Caribbean islands and desperate leaders of low traits, bent on overturning the democratic process – then it certainly leads to a very compromised, dangerous and recurring storm of bribery allegations and denials.