By Caribbean News Global 

TORONTO, Canada – Dysfunctional, unprepared and patience have now become key drivers to unfamiliar odds of "senior government" ministers to flip-flop in rainfall. And not even the blue umbrella of recent political vintage can shelter from the rain.
Flip-flops are more likely to slip off your foot. However, in rainfall and among two unfamiliar odds – they are slipping by their mere utterances – to coincide with their faculty. Besides, these are supposedly senior ministers, elected to govern Saint Lucia. And thus, the standards to the Saint Lucia we live in.
The case of the government of Saint Lucia being ill-prepared to schedule basic road repairs, rehabilitation and available financing is playing out in public view, made worse by ministers trampling on each other in the likes of Baghdad Bob or Comical Ali, uttering colourful appearances with ostensive credentials of misinformation.
First, Stephenson King, senior minister and minister for infrastructure, exposed his blue umbrella, unfit to shelter from the loose utterances of months of rainfall in Saint Lucia – and that it is factual that rain has halted road repairs.
St Lucia's infrastructure minister cannot fix roads … in 'rainy season'
Second, the ostensibly presumptuous and infamous Dr Ernest Hilaire added another twist to the buffoonery, to further expose being recruited – unfamiliar odds – under a blue umbrella that exposes his nakedness and continuous flip-flops.
The third layer is excuses, excess ego, shaming and blaming, difficulty executing an infrastructure programme, government budget and public finance management.
And according to the advise of a commenter – Let's consider a few challenges:
The budget gets passed in April;
Especially now, the timely and ready availability of materials to effect the construction of the roads;
The fact that we have been experiencing more than normal rainfalls and flooding which results in further degradation of the present infrastructure, would warrant some sort of measures even in this rainy season to make the roads motorable.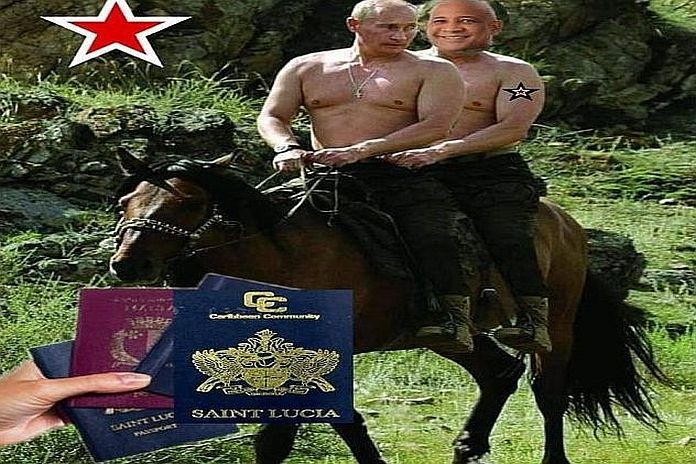 According to LoopNews, Hilaire says he does not believe that the state of the roads during the rainy season is a fair means of assessment of the government and their abilities so far during their tenure.
"Road repair will be done. There is a National Road Rehabilitation Program that will be undertaken. The rain has been relentless and we've not really gotten a break for some of the work to start."
Hilaire says the annoyance and frustration of the state of the roads are felt by everyone, and that as soon as some relief is allowed for road maintenance, work will be done in that regard.
Obviously, this speaks to being ill-prepared, in the absence of a scheduled work plan 12 months in a calendar year, in a tropical environment. Further, the argument of continuous rainfall, if this was a fact, Saint Lucia would be waterlogged in compliance with climate change and for the most part underwater. The next step would be the evacuation of the island, not – waiting for a break for some of the work to start.
The effects of rainfall on the faculty of Dr Hilaire, continued:
"There was supposed to have been a lock box; money collected from fuel taxes. Fuel prices have been significantly high the last few months and when we found the key for the lockbox, there was nothing there. There was no money to start the Road Rehabilitation Program. It's a wonder where all the lockbox money went to."
Matters that jump to the convenience of hypocrisy include "lockbox" – " there was nothing there" and "high fuel prices." 
The government of Saint Lucia has been in office since July 26, 2021 – and fuel prices have been significantly high since.
Is Dr Hilaire reporting an indictment of his government and that the current condition of Saint Lucia's road network is unacceptable? 
Dr Hilaire needs to look no further, but at his comrade minister King, former prime minister from 2007 -2011. King was minister for infrastructure from 2016-2021 in a United Workers Party (UWP) administration. His skills and experience – the gift of the gab – under an umbrella – enable him to return to the same ministry in a Saint Lucia Labour Party (SLP) administration in 2021 and counting. Currently, senior minister King is ducking rainfall!
On Friday, September 30, the ministry of health, said:
"Over the past two months an increase in the number of cases of Hand, Foot and Mouth Disease has been recorded. […]"
Conversely, hand, foot and mouth disease, a contagious viral illness has consumed the unsuspecting, senior ministers of government.
Putting People First includes care and attention to safe road conditions, efficiency and productivity, honesty, accountability, truth and facts.
Next step 
Under the current rules of engagement, Saint Lucia stands to better its position, building a bipartisan infrastructure works programme. This can take the form of Public-Private Partnerships (PPP) and stakeholders to bolster transparency while minimizing the impact of politics and reprisal governance.
Far too many national projects are government-oriented and driven by ill-prepared political representatives, hilarious government ministers with nomenclature and aptitude not of strong global standards.
Levelling up and compliance with government business requires honest governance and playing by the rules. Not Bluff! Not flip-floppers, competing against bad actors!
If senior ministers of government exposure to the elements of rainfall and their narratives are – a fact  – Saint Lucians ought not to be blinded by the blue umbrella, rainfall and the game of patience.