By Tiberiu Dianu
Steny Hamilton Hoyer was born on June 14, 1939, in New York City, New York, and grew up in Mitchellville, Maryland. His father was Danish and a native of Copenhagen, while his mother was an American, with Scottish, German, and English ancestry, and a descendant of John Hart, a signer of the Declaration of Independence. Hoyer graduated from the University of Maryland at College Park (B.A. magna cum laude, 1963) and Georgetown University Law Center in Washington, DC (J.D., 1966).
He is an American attorney and politician serving as US Representative for Maryland's 5th congressional district since 1981 and as House Majority Leader since 2019. A Democrat, he was first elected in a special election on May 19, 1981, and is currently serving in his 20th term. Since 2003, Hoyer has been the second-ranking Democrat in the House of Representatives behind Speaker Nancy Pelosi.
He is a two-time House Majority Leader, having previously served in the post from 2007 to 2011 under Speaker Pelosi. As a result of the 2018 midterm elections, in which the Democrats took control of the House, Hoyer was re-elected Majority Leader in January 2019 on the opening of the 116th Congress, remaining the number two House Democrat behind Speaker Pelosi.
Hoyer is a great friend of Romania and frequent visitor over the years. Hoyer chaired Congress' Commission on Security and Cooperation in Europe (the Helsinki Commission) which fought for human rights and democracy in Central and Eastern Europe. After 1989, he was a strong advocate of Romania's entry into NATO and today of its Strategic Alliance with the United States.
During the annual ALIANŢA/The Alliance Gala in Washington, DC, on October 3, 2019, held at the Conrad Hotel, the House Majority Leader Steny Hoyer (D-MD) received the 2019 Public Service Award. https://alianta.org/
Before his remarks on accepting the award, Representative Hoyer was very gracious and accepted to grant me an exclusive interview.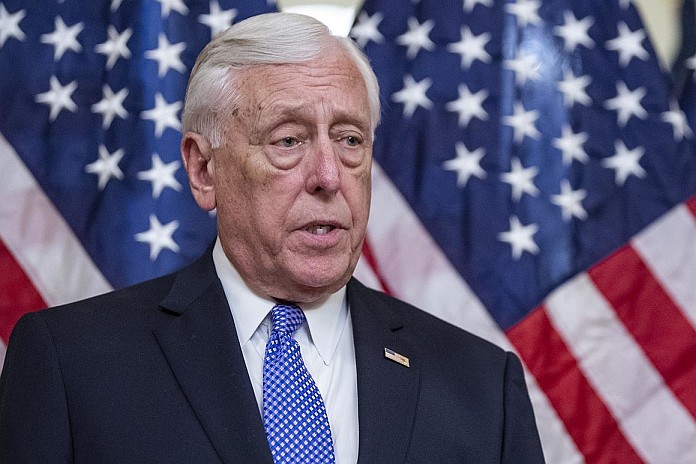 An interview with Steny Hoyer, US House of Representatives Majority Leader
Dianu: Congressman Steny Hoyer, you are the House Majority Leader. You are here to receive this year's Public Service Award. What does this award mean to you?
Congressman Hoyer: Well, I am very honored to receive this award. I have worked with ambassador Rosapepe, who used to be the [US] Ambassador to Romania. As a matter of fact, I saw him in Bucharest when I was there. And the relationship between our two countries is a very significant and important one. I was pleased to support Romania's accession to both NATO and to the EU. And I think they [the Romanians] are a very critical partner. I also think their partnership makes them more secure, as Putin and his company tend to be more acquisitive around the world. We saw what happened in Crimea. We need to make sure that doesn't happen anyplace else. But I am pleased to be here, I am honored to be here.
Dianu: Thank you so much, Congressman. You are a great friend of Romania and a frequent visitor over the years. How do you see the US Romanian cooperation at this point and the role of Romania in Europe, as a partner of the United States?
Congressman Hoyer: Well, as I said earlier, I think Romania is an important partner, strategically located. It's a democracy. I made a speech the other day about retaining our democracy, making sure we defend against those who would compromise our democratic principles. I think the people of Romania are doing it and I urge them to continue to do so.
Dianu: The last question, Congressman. As a House Majority Leader, how do you see finalized the process of impeachment investigation against president Donald Trump?
Well, we look at all the facts still. We're going to make a very careful review of the facts here, for witnesses, to review documents. And we will make a decision that is consistent with the Constitution and the laws of the United States of America. This inquiry is ongoing because we believe the president has fallen short and he has betrayed his oath of office. He is responsible in to uphold the Constitution of the United States and the laws of our country, and put at risk not only our national security but also the integrity of our elections. And, if we find those facts to be true, we will act accordingly.
Thank you so much, Congressman.