Dear Sir
Proceedings in the parliament of Saint Lucia and the new reality of COVID-19 to wear a mask is a solemn revelation of masked politicians blindly applauding the abundance of failure. A behaviour to recklessly forsake and deceive; a typical staple of the Allen Chastanet-led flock.
I am tired of hearing the government say they are doing things for the betterment of citizens when what is being done, does not benefit those in need. Much less the betterment of the nation at large.
Proverbs 30:18-19, "Better to die like a lion than to live like sheep" … "Our ignorance is not so vast as our failure to use what we know."
The blended of 'sheep' and 'jackasses' agreed to extend the State of Emergency which amounts to 'stifling democracy' due to COVID-19 until May 31, 2020, measures the government says need to be sustained to achieve low COVID-19 levels.
On top of that are threats to salary cut and more poverty, National Insurance Corporation (NIC) little change not enough to block- a-hole. Children at home eating every hour, Nicole 'screw-face' McDonald makes excuses for the government to make the payment of salaries, read from a piece of paper government 'was forced to increase its overdraft and incur further debt'.
'Screw-face' McDonald has no idea the amount of ZERO's on my bank slip, yet cries for her spendthrift government that "the ministry of finance is currently dealing with compounding issues: extremely low revenue intake, significantly high debt repayments and additional financial resources, which needed to be allocated to managing COVID-19."
I wonder if 'Screw-face' McDonald has seen this list:
Were any consideration given to "sacrifices that have to be made by us all in order for Saint Lucia (to survive this crisis)" and Saint Lucians to live a better life?
On the road to change Stephenson King said, "people cannot eat laptops" and the accredited Dr Gale T. C. Rigobert, minister for education, said, "What benefit is there in a laptop"?  her government stopped the laptop programme. Now COVID-19 comes along, her government introduced e-learning, leaving my children high and dry.
I have no idea when curfew and state of emergency will release me from home prison as the government is nowhere close to double diagnostic testing but the ministry of health says it has increased testing for COVID-19 at the laboratory and respiratory clinics across the island with the support of the Caribbean Public Health Agency (CARPHA). Low and behold prime minister Allen Chastanet has also lauded the leadership of health minister Mary Isaac in the battle against COVID-19.
If ever disinfectant may well be the vaccine for the government of Saint Lucia and a prime minister that has either lost his mind, is dumb or clueless like 'sheep' and 'jackasses'. Either way, the prime minister for once perhaps spoke the truth when he admitted that he only wanted a minister in the ministry of health – somebody with tremendous (1) empathy, (2) ability to get your hands dirty and (3) stay behind the scenes helping.
Short of a nation of "bright college boys and girls" lead by 'sheep' and 'jackasses' starving us to death before COVID-19, catch-up with me, I wonder how I will all learn to live on 50 percent less.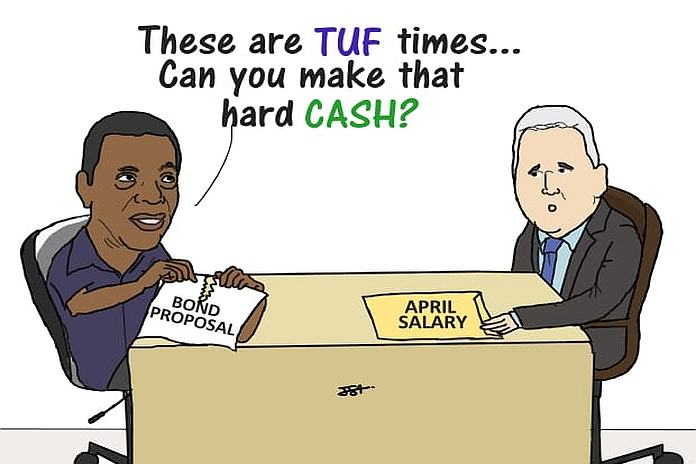 By reducing non-priority expenditure and increase the efficiency of spending, there is simply no hiding place to buy 50 percent less food, pay 50 percent of my mortgage, use 50 percent utilities, use 50 percent less gas, cut 50 percent of entertainment, don't shop for clothes and makeup, etc., and not expose my natural mask.
Thinking about that is already creating fiscal space and physical distancing … from 'sheep' and 'jackasses'; and I did not cut 50 percent antiperspirant.
Monica Fevrier