By Caribbean News Global

LONDON, England – The Commonwealth of Dominica continues to pile up acclamations named One of Condé Nast's Best Travel; Destinations for 2020; the Caribbean destination of choice; Travel + Leisure feature Dominica the 17th best places to Travel in 2020 coupled with the Caribbean Travel Awards 2020 designates Cabrits Resort & Spa Kempinski Dominica new hotel of the year award.
Dominica is on the right track to becoming the first Caribbean island to go fully green, sponsored by its Citizenship by Investment (CBI) programme, a new FT Specialist documentary reveals.
Dominica's achievement is remarkable following hurricane Maria's total devastation to become – one of the top 20 tourism locations of the future in terms of its foreign direct investment (FDI) strategy.
This is according to a new report issued on Monday by the Foreign Direct Investment (FDI) intelligence, a service from the Financial Times. The Nature Isle of the Caribbean leads with hotels development and investment, ecotourism, wellness, climate-resilient strategy and incentives for businesses.
"The FDI strategy category in the tourism locations of the future 2019/20 found that the hotel construction sector benefitted from the largest investments in Dominica. Importantly, though hotel numbers are purposely kept relatively low, their scale, sustainable approach and consideration for the local communities is what makes them stand out." – FDI intelligence.
"The most significant foreign investments made in Dominica during the past year were hotel properties, partly financed by funds from the Citizenship by Investment (CBI) programme," the report highlights. "These include Tranquility Beach, part of the Hilton Curio Collection, and Anichi Resort & Spa, part of the Marriot Autograph Collection."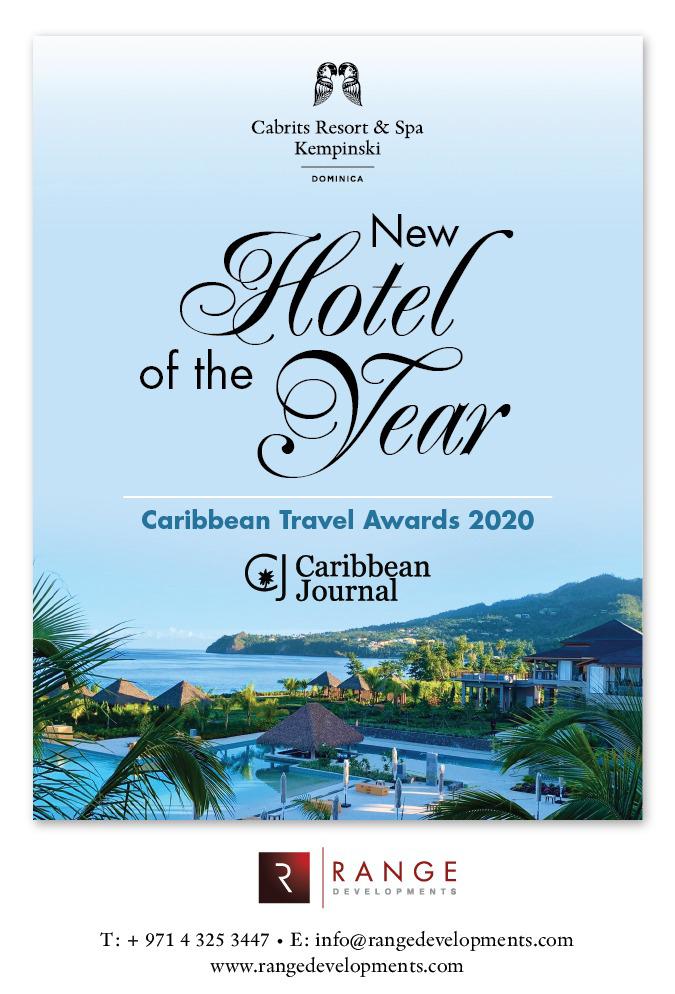 The game-changer is Cabrits Resort & Spa Kempinksi, with CBI shares sold out; debuted in October – is Dominica's first five-star resort with 151 rooms and suites; three restaurants; a massive spa, offering mud baths sourced from one of the island's 10 volcanoes; and a bar called Rumfire, winkingly called a "barmacy," where you can sample more than 30 "bush rums" — homemade spirits infused with medicinal herbs, spices, or fruit, this festive season.
A new hotel called Sanctuary Rainforest Eco Resort and Spa has been approved for CBI and has already broken ground. Together, they build Dominica's foundation for an emerging eco-tourism sector with a diverse wellness offering. FDI intelligence report notes that the island "attracts eco-tourists with its lush rainforests, mountains, waterfalls, and volcanoes and offers various eco-lodges and resorts to accommodate visitors."
Through CBI, foreign investors can obtain Dominican citizenship providing they pass all due diligence checks and make a minimum US$200,000 investment into CBI-approved real estate, including resorts that are currently under construction, but also the already operational Jungle Bay and Secret Bay.
Eligible investors can also obtain second citizenship in Dominica through a contribution of at least US$100,000 to the Economic Diversification Fund (EDF). The government expend these funds to build climate resilience, infrastructure guided by a "building back better" policy and to ensuring that national development and economic progress transcends the policy of becoming, "the world's first climate-resilient nation," which takes the form of reinforced modern infrastructure, hurricane-resistant housing or harnessing green energy, mindful of the environment.
This policy alongside Dominica's ranking as "the world's best citizenship by investment programme, combining extensive due diligence with efficiency, speed, affordability, and reliability," is a model as regards the smart management of CBI funds, has helped Dominica develop its economy and standards of living over the past few years.
Dominica has attractive incentives for investors, coupled with obtaining economic citizenship. These dual benefits and the natural environment enhance promising development prospects in 2020 and beyond.