KINGSTOWN, St Vincent – President of the Caribbean Development Bank (CDB) Dr Gene Leon is in St Vincent and the Grenadines (SVG) for a four-day visit for outreach to the government and citizens of the country as they continue to grapple with the effects of the eruption of the La Soufriere Volcano earlier this year.
Dr Leon, who has repeatedly expressed solidarity with the country, Thursday met with government officials including the prime minister, Dr Ralph Gonsalves, deputy prime minister, Montgomery Daniel and the minister of finance, economic planning and information technology, Camilo Gonsalves, who serves as CDB Governor for St Vincent and the Grenadines.
"We understand the effect the eruptions and COVID-19 have had on the people of St Vincent and the Grenadines, and we are here to provide both moral and tangible support," the CDB president said. "In addition to my meetings with officials I am also engaging with the citizens of the country as we chart the way forward for recovery."
Prime minister Dr Gonsalves said: "The CDB is currently the single largest lender of concessionary funds to St. Vincent and the Grenadines. On that score alone, the CDB is central to our development. But the CDB is more than a lender to us; it offers policy advice; and it is our all-around, many-sided partner – a vital pillar in the integration of our Caribbean civilisation.  Our discussions with the newly-installed President of the CDB are vital for our present and our future."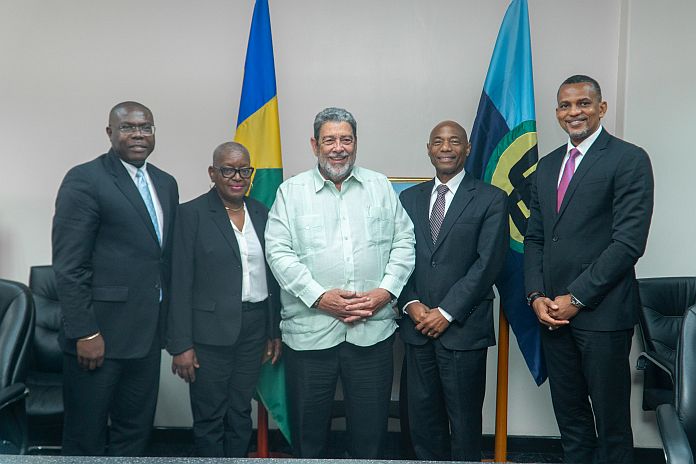 Dr Leon is leading a delegation which includes, vice president, operations, Isaac Solomon, director of projects, Daniel Best and advisor to the president, Dorla Humes. The CDB team is also visiting bank projects currently underway in various parts of the multi-island country.
The bank has a number of social and infrastructure development projects in various stages of implementation in St Vincent and the Grenadines. These include the US $140 million Kingstown Port Modernisation Project, the US $13.6 million School Improvement Project, under which nine schools will be upgraded and the US $13.4 million Sandy Bay Sea Defences Resilience Project.