By Caribbean News Global

TORONTO, Canada – The article 'A Stunning St Lucia Golf Resort Is Really Out of the Way. That's by Design' reads: "Cabot Saint Lucia is set to open in 2021, and a 50-suite boutique hotel will open in 2022. The partners said they were reluctant to divulge their investment in the property."
So really, how does this compare with leader of the Saint Lucia Labour Party (SLP) Philip J Pierre rebuttal, July 2019? "If NIC wants to calm people's fears" Pierre said, "they must provide more information about the exact nature and their involvement in the Cabot project. The SLP is always supportive of development that will improve the quality of life of citizens, but such development must be conducted in an environment of transparency, fiscal prudence, fairness and accountability, especially when NIC funds, the only source of income for most pensioners of this country, are involved."
July 2019, commenting on the development, chief executive officer (CEO) of Invest Saint Lucia, Roderick Cherry expressed pleasure at inking yet another investment agreement for the island. 'Situated on a hilltop overlooking the beach, the club and resort at Cabot Saint Lucia will include a 50-suite boutique hotel, three restaurants, boutique retail shops, Cabot Spa and clubhouse. This investment will complement Saint Lucia's high end/luxury image and help strengthen the island's marketing appeal,' Cherry said.
The New York Times article continued: "Currently, 300 memberships, available only to owners of homes in the development, are being offered, with 130 lots set aside for single-family custom homes. These sites are a mix of beachfront and blufftop estates, as well as luxury villas. The remaining 170 will be sold as flats and townhouses, using the resort's varied topography from the beach to its hilltops. The prices will range from $750,000 to $10 million.
SLP spokesman for investments, Ernest Hilaire asked a few questions on social media Tuesday, July 9, 2019, and referenced in the article St Lucia's $30 million pension fund investment in a Golf resort?
"Why do we need to use our [Saint Lucian's] pension funds to finance the purchase of lands for a billionaire? What is the security [assets/equity] against which NIC investment/loan was made? Is it true that the investor had been trying to buy this property for more than three years and could not close on the property purchase?" Does the investor love our NIC so much that the NIC was searched out to present such a sweetheart deal?
Political leader Pierre asked? "Why did the investors not secure investment funds in their own markets?
He further explained: "The monies held by NIC are the pension funds of hard-working Saint Lucian's who are depending on this to survive during their retirement years. They are to be invested wisely, to attract maximum returns and not to finance high-risk private enterprises like Golf courses owned by foreign nationals or used to fund other grandiose private sector projects dreamt of by foreign friends of the prime minister."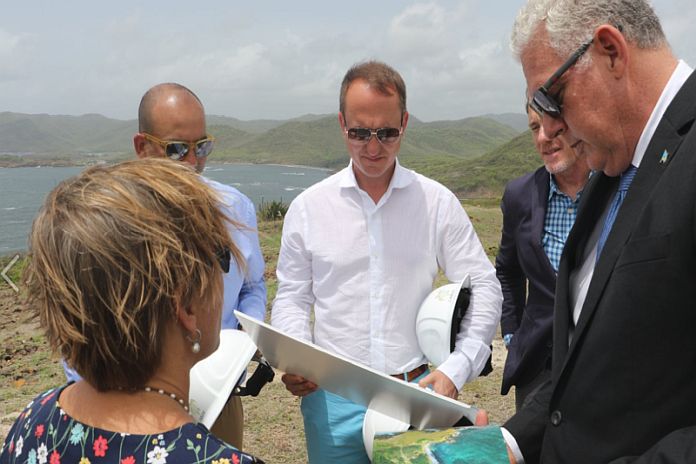 The answer is apparently evident in the New York Times article: "The least expensive way to do expensive lodging is to sell homes," Keiser said. "The easiest way to finance lodging is to not borrow it from a bank but have friends and acquaintances buy lots and build houses and rent" them out to tourists.
"Prospective owners will be able to choose from built properties or luxury flats or to customize their homes from a menu of colors and material. We're looking to maximize privacy and maximize protection from the sun and the wind," Evans said, but he added that he wanted guests to "experience the noise of the ocean."
However, to use another scoring term a "Birdie" meaning a score of one-under par on any individual golf hole. Par is the expected number of strokes it should take an expert golfer to complete a hole.
From the onset, the landscape of Point Hardy, a 375-acre peninsula concept of a luxury resort and 18-hole golf course distinguishes the connotation: "But its beauty will pose challenges," referenced the article.
"Along with the problem of integrating real estate with golf, Coore said, the island's topography and agronomic qualities, in some ways, aren't ideal. Coore and Crenshaw practice what has been termed minimalism in golf course design, which seeks to use what the land has, rather than using heavy equipment to move earth or bringing in additional materials.
"Cabot Point, as the course is being called, features a number of rocky outcroppings and soil that will make it challenging to create the style of course that Coore and Crenshaw typically build.
"Course builders prize sandy soil because it's akin to sculpture with butter. The St Lucia property, despite being near the ocean, doesn't have much of that. Coore confirmed that they would use a technique called sand capping, which places a layer of sand over the turf to help promote drainage and create the fast and firm conditions golfers prefer.
"But Coore said the real test for his team would be "to create a course that is as enjoyable and playable as the site is spectacular." He added, "This may be the most spectacular site we will have worked with, and that's saying something."
A letter to Cabot Links principals Ben Cowan-Dewar and George Punoose, read in part:
There is ample evidence that these types of large, dense developments have serious impacts on the stability of ecosystems and the ability of small island states to withstand natural disaster and increasingly difficult climatic conditions. Thus, development of appropriate scale, planned and built with effective measures to protect resilience and ecosystems, is of utmost importance. Little to none of the local developments come close to such a description, and by the design drawings and complete lack of community consultation thus far, Cabot Links appears no different," Finola Jennings-Clarke.
Musing on 'pension fund chairman of NIC, Isaac Anthony, dithering on Golf resort investment in St Lucia' that  NIC's involvement in the project is by way of an EC$27.5 million loan which is approximately, 1.2 percent of NIC's investment portfolio of EC$ 2.3 billion dollars,' and according to Anthony, "I will concede that, the loan is 100 percent secured," adding, "NIC support for this project is a developmental nature in that it will assist in growing the economy, which in turn has benefits by way of employment, and which further strengthens the fund."
Research indicate that investment and/or loan in companies that depend on government/taxpayers' dollars and considerable concessionary terms, repeatedly, is not a model of development or success, but ideally is bad business.
 Related: Part 1