By Kin Man Young Tai
This is a monumental effort and a fine achievement by Tony Deyal in the seventy-sixth year of his life. That we have seventy-six articles here and a meticulous and very learned introduction by Dr Ken Ramchand makes this a challenging review. I will leave the details and literary values of the book in the good hands of the doctor.
It was not an easy book for me to read in a sitting, given the richness and depth in the articles; each being a study by itself with so much to note and savor. It is definitely a book that I can open on any page for a truly entertaining and insightful read. The range is truly catholic, though based in the Caribbean, the writer's interest, cricket being very special and concerns that touch on Trinidad and expanded through research to so many other locations in the English speaking world: America, England in particular given Trinidad's links to them. His time as a careful, insightful and well-qualified journalist is evident here.
I approached the read as a poet and to my surprise, so much of it is like a good sonnet, with the striking conclusions of many hitting me like the last two of a sonnet to summarize or extend.
The elements of good writing he certainly has learnt and mastered: even the matter of writing to maximize the use of a page before the reader's eyes, clearly on show in his articles in the newspaper and My Trinidad, the online magazine that he has founded and remained a key member of. With that skill, he moves about with a wide-ranging poetic licence with much of what he has read and lived. Nothing is too sacred nor profane in his world that he cannot turn to some use for himself and his readers, with due grace and respect to most.
There is the odd free-wheeling one where the writer just let himself go like a good Stand-up comedian with an appreciative audience. That too was good, pure fun with his amazing ability to make so much more of words and situations. A case in point is the article 'Bad to the Bones'. That wild roller coaster ride of a read was pure and good Satire with the politics, Medicare, institutions and life in Trinidad and Tobago. As light as the read, many important critical and current issues facing the reader in Trinidad were addressed. As in a good poem, it brings out in me, my own experiences, and with the horror, good catharsis.
Catharsis remains a strong point of writings that I cherish. This writer does not shy away from the horror or the forbidden in his time as a public figure, a journalist, a citizen or a husband and father in a family. How he manages it speaks much of grace and the light that he throws on many of the uncertain and feared areas of our lives. That light is bright with his mischief, courage and self-deprecating approach. He is never the master of the situation with the possible exception of cricket, which he embraces as the metaphor for West Indian success and failure. That he stands there like another player, as tormented or compromised, and able to make such godly fun is his appeal to me. Yes, I am more caught up in the darkness of events, dry humour at best, so this is a refreshing exercise for me.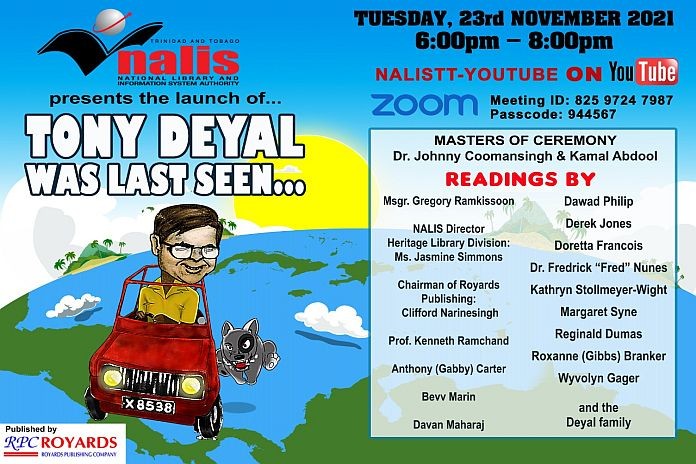 The inspiration in all of them is superbly set out in the opening salvo. It rocks you out of your coffee or seat depending on where you are with the read. That undoubtedly justifies the comparisons with no less writers like Mark Twain, O. Henry, James Thurber and Jonathan Swift. He is in my mind a most accomplished writer and with his insight, compassion and research a significant one to read if you want a useful perspective on the West Indies and general life. The details he relates of his whereabouts with their events, their larger than life characters or everyday people are honest and worth noting. That it is fun with near everything, some dark and critical let him slip in so many of his concerns about and hopes for Trinidad and the Caribbean.
The concluding article "Good to the Last Drop" may highlight what makes Tony so special a writer. Here he let his fun with coffee and celebration move him back and forth with a friend in memory and now, his family and his age as much as Proust with the Madeleine cake in his Remembrance of Things Past, to return him to what was precious and what became of that in the present. And in the last line, with yet another twist to turn into a future exercise.
Tony's great gift with puns shines through, maybe to the chagrin of those keener on 'more serious' literature. I hold firm to my choice of a writer with qualities that resonate with mine, life experiences I can share honestly and that can help me understand myself and others better. The journey that never ceases to surprise and keep us in the infinite of a life, though mortal is one to keep to heart.
Much thanks for sharing your journey, Tony.