CASTRIES, St Lucia — On May 23, some of the region's biggest acts will join forces as part of a concerted effort to anchor financial pledges towards the rebuilding of St Vincent and the Grenadines (SVG), following the devastation of the volcanic eruption of La Soufriere.
The virtual showcase of Caribbean excellence, "Stronger Together. We Are A Global Family," is being held by the Organisation of the Eastern Caribbean States (OECS) Commission and the Global Coalition in support of St Vincent and the Grenadines in partnership with the O2N Foundation.
Join us on Sunday, May 23 at 2:00 pm for "Stronger Together: We are a Global Family" and make a donation to help Vincentians rebuild their lives.
A financial pledge at https://stronger.oecs.org/ will make a difference not only to a nation at large, but to the individual lives of our Caribbean family in SVG.
You can also support this worthwhile initiative by tuning in and promoting the invigorating, call-to-action production on your respective social media platforms, specifically Facebook.
Let's be our brothers' and sisters' keeper! Donate here: https://stronger.oecs.org/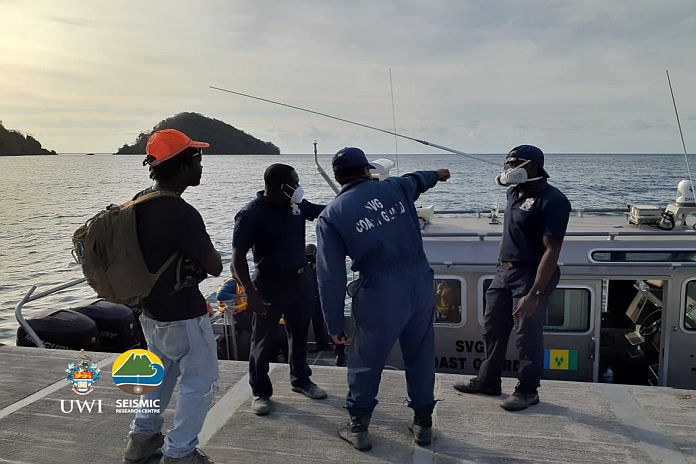 La Soufrière, St Vincent Scientific update 19/05/21 6:00 pm
Seismic activity at La Soufrière, St Vincent has remained low since the tremor associated with the explosion and ash venting on 22 April. In the last 24 hours, seismic activity was limited to a few long-period, hybrid and volcano-tectonic earthquakes.
When the cloud is high enough, there is persistent steaming observable from the observatory. Thermal anomalies indicating high temperatures inside the new crater continue to be detected by the NASA FIRMS alert system. These have been persistent since the 22 April explosion.
Gas measurements on May 18 yielded an average SO2 flux of 633 tons per day. The volcano continues to be in a state of unrest. Escalation in activity can take place with little or no warning.
Caution should be taken in crossing river valleys on the volcano due to the increased risk of lahars (mudflows) during periods of rainfall on the volcano.
The volcano is at alert level ORANGE.
Visit the International Volcanic Hazard Health Network for volcanic ash information and resources.