By Government Press Office | BELIZE
BELIZE, Belmopan –  CICTE OAS has extended an invite to Belize to participate in the English Edition of the Cyberwomen Challenge that will take place on September 9th, 2021 from 8:00 am to 2:00 pm (local time). This activity is being organized by the OAS/CICTE Cybersecurity Program and Trend Micro to encourage more women to strengthen their technical skills and inspire them to enter the cybersecurity industry.
The Cyberwomen Challenge is a 6-hour online technical workshop, where the participants will use tools that will help them in the analysis of cybersecurity incidents. Participants must solve around 30 challenges in randomly formed teams and compete against other teams to achieve the highest number of correct answers.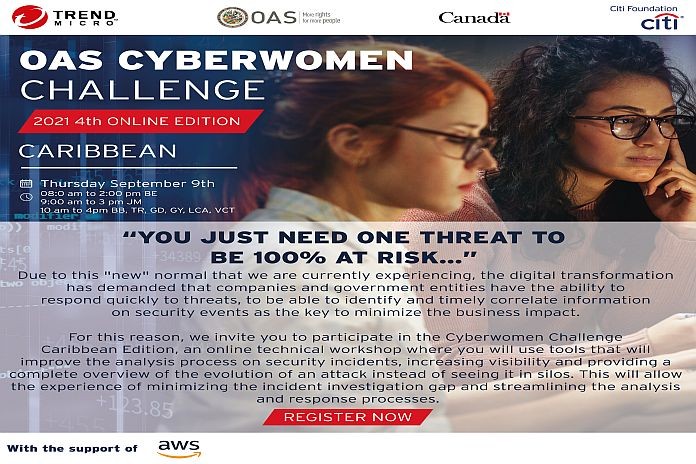 Please see below the requirements to participate in this edition of the Cyberwomen Challenge:
Must be of legal age (18 years or older).
Must live in one of the following countries: Antigua and Barbuda, Barbados, Belize, Dominica, Grenada, Guyana, Haiti, Jamaica, Saint Kitts and Nevis, Saint Lucia, Saint Vincent and the Grenadines, Suriname, The Bahamas, or Trinidad and Tobago.
Must have previous knowledge about incident response, basic concepts of security and threats, basic concepts of networking and Windows and Linux operating systems. Backgrounds in information technology are greatly encouraged.
Must have a laptop or desktop computer with a functioning camera, microphone, and speaker, and minimum 5Mbps internet connection.
Women interested in participating should register at the following link: https://forms.gle/FGefADfZXK4DULmX9
For more information, kindly refer to the initiative's website: https://bit.ly/CWCCaribbean2021