By Caribbean News Global contributor
CASTRIES, St Lucia – In July 2017, the abrupt resignation of the minister in the ministry of agriculture, Jimmy Henry [aka Lament] was to many, an insignificant departure although worthy of discussion, based on the circumstances. This was made more apparent by the usual lack of information from the government of Saint Lucia and the ability of then minister Henry to lament his story.
In a video statement, then acting prime minister Ezechiel Joseph said that prime minister Allen Chastanet and the Cabinet of ministers had accepted Henry's resignation.
"On behalf of the prime minister of Saint Lucia, Allen Chastanet and the Cabinet of ministers, I wish to state that we have accepted the resignation of Jimmy Henry as a Senator and a minister in the ministry of agriculture, fisheries, physical planning and natural resources and cooperative," Joseph stated.
Notwithstanding "for reasons, all together personal" responsible for his resignation, Henry said. "Due to these personal matters at this time, I am unable to give the attention necessary to my ministerial duties."
Henry [aka Lament] contested the Dennery North seat in the 2016 general elections for the United Worker Party, (UWP). He was unsuccessful against Shawn Edward of the Saint Lucia Labour Party, (SLP).
The Henry scandal at the time was abridged on the advent of customs and immigration "random screening" at the George Charles Airport and questions about a large sum of money in his possession at the time.
Acting commissioner of police Milton Desir said then that Henry [aka Lament] is not currently being investigated by police. "We have no such information that any minister or in fact the minister mentioned is under investigation," he said.
National security minister Hermangild Francis also said that he knew nothing about an investigation into then minister Henry.
"I don't know anything about the minister being investigated or the minister being involved in any illegality, but the prime minister is the one who should be able to speak to that – he is the lead minister and as an ordinary minister, I don't think that I should comment about the absence of Henry at this time," Francis said.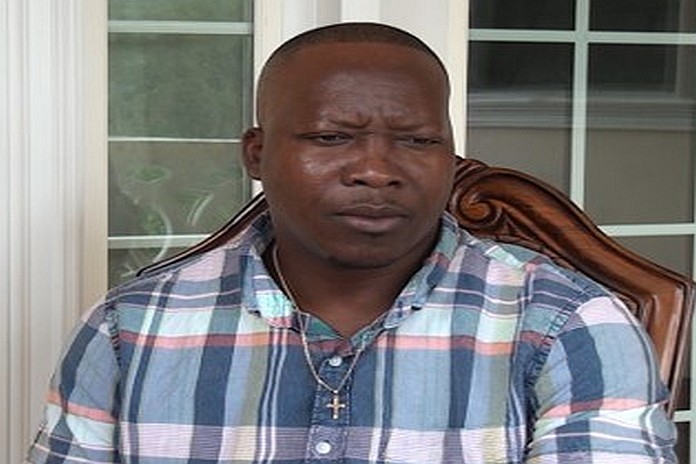 Consequently, was Henry the casualty of politics, destabilising tactics of overzealous civil servants with 'scruples' gone wild? After much contemplation "feeling betrayed" Henry bears it all – in a Choice TV exclusive with Janeka Simon, "Off my chest".
The timing, however, coincides with the reflections for Lent, when Catholics seek repentance absolution and redemption, in preparation for the risen Christ.
But first, what's in the readout that Henry [aka Lament] in reference to his former Cabinet collaborators, "Die dead, Die alive" and "You just start to cry" denotes for his "own sanity"?
The following is Jimmy Henry [aka Lament] prepared statement as readout in the interview;  [transcribed/edit for publication]
Good day to everyone listening at this moment. I guess many persons may know who I am, but I would like to introduce myself.
My name is Jimmy Henry. The candidate who contested the 2016 general elections on a United Workers Party (UWP) ticket for the Dennery North constituency. Many may wonder why I'm here today. Well, it's simple. I think that it's time that I let the people of Dennery North and by extension, the Saint Lucian public know why I had to leave the government so abruptly. Although I want to give an idea as to my struggles in becoming the candidate for the party, I realized that time may not permit. So I will endeavour to delve into the matter at hand.
During the period almost a year into office, I decided to take a few days off from work, which was the week of my birthday. I decided to take a trip to the neighboring island of Barbados where my friend was at the time. I left on Thursday 2, June 2017 and returned on Monday 6, June 2017, early that morning, because I did not want to miss out on my cabinet meeting.
When I got to the airport, I was accosted by a police officer on two customs officers. They informed me that they were doing a random search and that I was one of the persons chosen. I remember telling the police officer, that amongst everyone there, you chose me. The individual answered yes. Immediately, I suspected that something was wrong because I was the only one who was approached. I then said, fine. He then said, that they were not able to do it on the floor and that we should head to the lounge because they do not want to create a scene and embarrassment.
I replied; It's too late. We then went up to the lounge where they looked into my bag, which was filled with my children's clothes. Then they ask whether I had any cash, which I answered, Yes. I gave them the cash, and they ask how much? I told them it was six thousand Barbados dollars. It was checked, and then I was allowed to leave.
When I got to Cabinet that morning, I mentioned it to my Cabinet colleagues, where we had a discussion with regards to the situation. A few weeks later, I was called into a meeting with the prime minister, together with the minister of agriculture, who was acting prime minister at the time of the incident. They expressed concern about my trip and my friendship with the same individual who was in Barbados at the same time. I told them that it was a short vacation trip and that I needed the break since I had not taken any time off since the election.
I remember the prime minister saying to me that my relationship with the individual had created some friction, where I was being looked at as someone who was a threat to his party.
I remember the minister of agriculture making a number of comments on allegations, which I choose, not to get into at the moment. I was threatened in the sense that I was made to feel that I had committed a heinous crime which was treasonous.
My inexperience in the field of government contributed to that. They also mentioned a situation whereby I give a colleague minister some sensitive information. I was speechless at the time. I felt my entire world crumbling. The prime minister gave me the option of having to leave or that I would have to be fired. Again, I felt bullied into making a decision that I did not want to make. I was also told that I was being investigated by the American embassy, for reasons they did not disclose and also added that there were a number of other things, which they would rather not get into.
I was confused and scared, thinking that I had done something really bad. Thinking about it, I was in a position of power and influence and really felt that I had committed a crime. I was not given an opportunity to explain anything, which was how I got to resign.
I was also told that it would be wise if it was done immediately and that I did not tell anyone about it, especially a meeting with members of the constituency of Dennery North. In the words of the prime minister, we do not need any huge commotion.
In my native state, scared at the same time, I listened to all that they had said. In this country, senior ministers can have whoever they want as their friends, but the ones who can be manipulated because they have no power, money or any kind of fame, are suppose, to be caged.
Many will ask the question, why now? And I believe that this is a fair enough question which needs an answer.
The truth is that I think the best person to answer this question would be the prime minister of Saint Lucia and the minister of agriculture. The reason why I say this is because I was never given a legitimate reason as to relieving my post in the Cabinet.
One would argue that I did not win a seat in parliament and that the government gave me a position and the prime minister in his own judgment, had every right to take it away, which I agreed.
Then why was I given the position in the first place?
My people, I want to let you know that I have no influence in the party and the government. After my forced resignation, I have never been invited to any kind of function – be it Party (UWP) – nor governmental.
After my departure, very little has been happening in the constituency and the little which is being done – is done by persons who were not part of the campaign, who even campaign against me, and also persons from the outside. They are the ones receiving contracts and many of the huge ones being done by persons from the outside.
Is that fair? Is that right?
The many who sacrificed everything are left on the side-lines, while those who were against me are reaping the benefits.
Many believe that I received a large sum of money to leave the Party. I will say again that I did not receive a cent from the Party. They also want to make the public believe that I am receiving a salary from the government and working somewhere. The truth is that I have not worked for about three years now.
Dennery North, I did not sell you out. I want to say, that I am sorry for what transpired. I wish that I could have taken it back.
I wish that; I could have could come to discuss the situation with you before I took the decision.
I wish that; I had listened to my family and not resign but allow the government to fire me as they threaten too.
I wish that; I had listened to my gut feeling and seek legal advice before making the decision that I did.
It has been rough. It has been tough for me and my family for the past years. I need to let those in the position of power know that I am down, but not out.
I have been threatened so many times in the past few years for my decision to resign.
I also feel the need to come out and explain, to the people of Dennery North, for my own sanity. Too many sacrificed on my behalf and many who did not lift a finger are the ones benefiting today.
This is not fair. This is not right.
Some may say that I was employed, but really and truly, what exactly did I do to warrant such treatment – by my own? I got involved in politics not because I was motivated by power or fame. I got involved because I knew that I would have made a difference in my community, country, and region. I did not receive a cent from having to be chosen to make myself available for elective politics.
I was not one of those who waited till [I was of] pensionable age, then got involved. I gave up my pension, gratuity, and salary – everything which comes with the risk of getting into politics.
Throughout my campaign, I did not receive a cent. Again, I did not receive a cent from anyone, not even the Party which I represented.
I was sent out in the field to be slaughtered, but I knew better. This is one of the reasons that I was called in a day after the date of the election was announced, to contest the seat against a friend, a former colleague and a formidable opponent – one I respect up to today.
I speak now to those at the helm who has the influence and for some reason never wanted me to be the candidate. I went through hell and back to be the candidate under the UWP, during the June 2016 general election. Many fought from day one for not wanting me there. Many of them now have powerful positions in government. I remember clearly one – and he knows himself who campaigned against me, days before the election, they are now sitting in highchairs within the legislative system of government. Bravo to you. Again, I am down, but not out.
Ladies and gentlemen, I am not done with this politics thing. I have not accomplished what I set out to do. I would like to say to [many] people in the valley, Dennery North that is, who supported me from day one.
There are many persons I wish to mention their names, but I would not want to leave out any, so I will refrain from doing so. Those persons who walked with me throughout the constituency – I thank all of you – and I want to see that I am sorry that things turned out the way they did.
The truth is it was never my intention. I hope that someday you will find it in your hearts to forgive me.
With all this said, I still believe that I have a lot to contribute towards the development of my country and constituency as a whole. As a young person, I understand the needs of the people of this country. I do believe that I have the energy to do what it takes to assist and make a meaningful and valuable contribution in whatever I so desire.
Thank you, and may God bless everyone and this beautiful island of Saint Lucia.