By Synieka Thorne and Neola Damon
GEORGETOWN, Guyana, (DPI) –  Eleven moderate-income families on Saturday received the keys to their newly constructed units in Cummings Lodge Housing Scheme, Greater Georgetown.
After waiting for eleven years, Travis Bowman, a young father of one, was elated to receive the keys to his new home from minister of housing and water, Collin Croal and minister within the ministry of housing and water, Susan Rodrigues at a simple handing over ceremony.
Bowman, who currently resides with his parents in Mocha Arcadia, East Bank Demarara, said that he applied for a piece of land since 2011, but opted for the government's turn-key homes when he was given the opportunity.
"Being in a position to get both the land and the house will save a lot of time and a lot of running around, so it's a real nice feeling," he told the Department of Public Information.
Yasmin Mohamed and her husband Rameshnauth Parbunauth will now be able to provide a safe, stable and comfortable home for their family.
Parbunauth said that he has been experiencing a lot of issues where he is currently living with his family. He expressed gratitude to the government to affording him the opportunity to own his own home.
"I waited a very long time for this. I never expect I would get something like this so I thank the government. I will be moving in as soon as possible," he said.
The two-bedroom, elevated moderate -income houses were constructed by the ministry of housing's Central Housing and Planning Authority (CHPA) as part of the PPP/C government's affordable housing programme.
Each unit measures 20 feet by 30 feet (600 square feet) and are sold at a cost $7.5 M. Currently, some 190 homes are being constructed in the scheme and 100 more are set to begin shortly.
In his remarks, minister Croal said that the aim is to ensure there is a housing programme that responds to the needs of every Guyanese – lower, moderate, middle and young professionals, as well as the vulnerable groups.
Not only is the government building the homes and providing lands for those categories of Guyanese, Minister Croal said, but has implemented several measures that will allow beneficiaries to have easy access to loans to purchase these homes.
He explained that the development of Cummings Lodge Housing Scheme started in 2014 and no development was done in the area over the five-year tenure of the Coalition.
"In just 18 months in office, and we have already done it, whereby firstly, persons can occupy their new homes and secondly, in a few months persons will start being able to access their lands to build their homes," the ministry announced.
While congratulating the beneficiaries, minister rodrigues said it is a demonstration of the government's commitment to improving the lives of citizens through the provision of affordable housing.
"I know it brings much relief to the people here, who have been waiting to have a roof over your head. [Today], you are not just receiving an allocation of land, you are receiving your home and I know those who are here have made great sacrifices," she told the beneficiaries.
Meanwhile, chief executive officer of the CH&PA, Sherwyn Greaves said the intention is to make Cummings Lodge into a model housing scheme equipped with all the necessary amenities including, a health centre, schools, recreational facilities, a police outpost and modern, roads, drainage and bridges.
The construction of homes project was conceptualised by His Excellency, Dr Mohamed Irfaan who had initiated the 'turn key' homes initiative when he served as housing minister prior to 2015. Close to 1,000 homes are underway for lower to moderate-income families, as well as young professionals.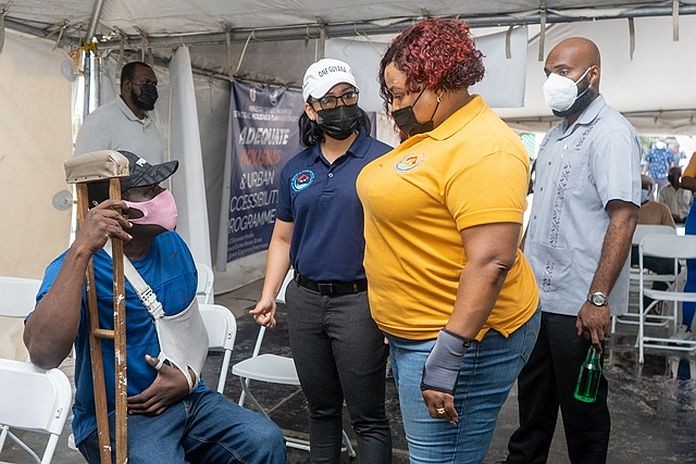 Meanwhile, city residents benefit from housing outreach reports Neola Damon, as scores of Central Georgetown residents on Saturday, capitalised on the government's core home support and home improvement subsidies offer, via an outreach held in Roxanne Burnham Gardens.
During the outreach held by the Ministry of Housing and Water's Central Housing and Planning Authority (CH&PA), persons were able to instantly apply for either initiative and have their interview conducted on the spot.
Minister Rodrigues, M.P., said this initiative ensures the ministry's 2,000 home improvement subsidies and 250 core homes, are equitably dispersed. It is also in keeping with the government's manifesto promise to provide 50,000 house lots to Guyanese by 2025.
"We are seeing mostly applications for the home improvement subsidy and so we are happy to help those people who need their houses renovated and bring it up to a standard where they can live comfortably, but we are also accepting the core homes applications as well," the minister said.
This is the eighth exercise hosted to date, by the housing ministry for 2022. Thus far, communities served include South Ruimveldt, Tucville, North Ruimveldt and sections of the East Coast of Demerara.
Minister Rodrigues is encouraging persons to take advantage of the services being offered by government, as they seek to have Guyanese comfortably housed. This is also in keeping with the Sustainable Development Goals (SDGs)- Goal 11 which seeks to ensure adequate, safe and affordable housing.
The programme's home improvement subsidies feature, allows applicants to gain at least a grant of $500,000 worth of construction materials for repairs to walls, floors, electrical works and sanitation improvements and other non-cosmetic improvements, while, the core home support aims to establish 20ft x 20ft two-bedroom concrete homes for vulnerable households, including for single-parents.
The boundary currently encompasses the La Parfaite Harmonie Housing Development in Region Three; Georgetown to Grove on the East Bank of Demerara, Region Four; Georgetown to La Bonne Intention and 19 other select communities on the East Coast of Demerara, Region Four.
The ministry's Adequate Housing and Urban Accessibility Programme (AHUAP) is being funded by the Inter-American Development Bank. Under this programme, US$5 million has been earmarked for home improvement subsidies while US$5 million is catered for core home support.