By Caribbean News Global

TAIWAN / USA – In the light of China's increasing provocative military activity near Taiwan, US Department of State in a press release said 'The United States is very concerned by the People's Republic of China's provocative military activity near Taiwan, which is destabilizing, risks miscalculations, and undermines regional peace and stability. We urge Beijing to cease its military, diplomatic, and economic pressure and coercion against Taiwan.'
In a tweet the ministry of foreign affairs (MOFA) replied: "Our sincere appreciation to @StateDeptSpox for the strong remarks. We thank the #US for its rock-solid support of #Taiwan in the face of China's pressure & coercion, as well as maintaining commitments under the Taiwan Relations Act & Six Assurances."
US Department of State affirmed that " we have an abiding interest in peace and stability across the Taiwan Strait," added, " we will continue to assist Taiwan in maintaining a sufficient self-defence capability, and we will maintain our commitments as outlined in the Three Communiqués, the Taiwan Relations Act, and the Six Assurances."
"The US commitment to Taiwan is rock solid and contributes to the maintenance of peace and stability across the Taiwan Strait and within the region. We will continue to stand with friends and allies to advance our shared prosperity, security, and values and deepen our ties with democratic Taiwan," said the press release from US Department of State.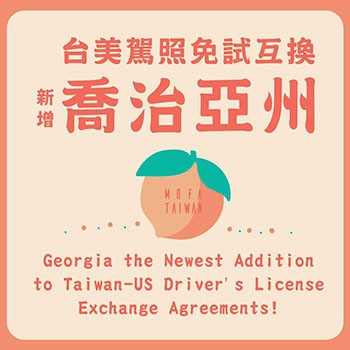 Meanwhile, Taiwan and Georgia (USA) signed a reciprocal driver's license agreement (Taipei Economic and Cultural Office in Atlanta on behalf of ministry of transportation and communications with the Georgia department of driver services) that stipulates legally certified drivers can obtain licenses in respective jurisdictions without taking written and road skills tests. The agreement took effect on September 30, 2021.
Taiwan also holds driver's license agreements with Bahrain, Germany, Israel, Kingdom of Eswatini, Jordan, Poland, Saudi Arabia, Turkey and nine provinces in South Africa.
Currently, more than 16,000 Taiwan and US citizens have benefited from reciprocal driver's license agreements. These include the residents of Alabama, Arizona, Colorado, Montana, Nevada, Pennsylvania, Tennessee, Texas and Washington.
The MOFA said the pact delivers greater convenience to drivers and deepens people-to-people exchanges. It further demonstrates that Taiwan-U.S. ties remain rock-solid despite the challenges of COVID-19.