By NextGen SKN
Kenny Douglas – Man of the People of Sandy Point
I was born in the Pogson hospital in Sandy Point. Some of you have known me all my life. I have taught your children and tried to make sure they got the best education and opportunities they needed to improve themselves and to help you and our country. I am always available to you and even as the ambassador to Cuba I was always available to you.
You cannot say that about Shawn. His office was closed for years and you never saw much of him.  He is now trying to come around with forms and applications, but you know those things will never happen.
Let me tell you what will happen, what I can guarantee will happen, when you vote for me – Kenny Douglas, Man of the People of Sandy Point.
Instead of being a dream, the Sandy Point Port will be a reality and the days of expanded commerce with Saba, St Eustacia, St Maarten, St Barbs and Anguilla will be a reality. Boats will be able to come and go. Tourists will be able to tour all the different sites we have close-by. There will be jobs not only for the people of Sandy Point but the neighbouring communities. Our people will not have to go and fight for work in Basseterre. There will be enough happening here to employ all our adults and young people.
To make sure this will happen, the NextGen SKN labour government will ensure that, in addition to the academic courses, there will be skill training programmes in carpentry, construction, and culinary arts. We will have refresher courses for adults who are unemployed and need to upgrade their skills. We will ensure that we have training in agriculture so our produce will be of the highest quality and we will be able to satisfy the needs of the hotels here and in the islands close to us.
Right now, we have a tremendous housing shortage and I blame Shawn for that.  After sixteen years as your representative all he has built is a handful of houses and half of a police station. I plan to build 50 houses a year for five years so we will have 250 houses in the five-year term and the priority will be given to those most in need, those with family and financial issues. In a few months, we will build more houses than Shawn has built-in 16 years. The houses will be equipped with solar panels to guarantee a sustainable electricity supply.
I am concerned about our senior citizens in Constituency No. 5. We have to help them as much as possible, especially those who are retired and approaching retirement. We have to get our community centres open and catering to all ages as soon as possible. We need places and spaces for all.
This is why I am going to ensure that we put the facilities in place at the new recreation ground so there are washrooms, bathrooms, seating accommodation and all that is necessary to make sure our children don't have to go into the bush or behind cars if they have a call of nature. We can sit and watch our children play and take in the day and night cricket and football.
We will upgrade the old recreation ground and make sure it contains a state-of-the-art gymnasium so we don't have to leave the community if we want to keep fit.
I was a teacher as you know. I taught many of your children. We had introduced the laptop programme which Harris stopped because he needed more money for his friends and family. We will bring back the laptop programme because more of the CXC examinations will be online. The laptops will help our children to improve their research skills.  Even better, when they start school, up to Grade 6, they will have tablets so regardless of their age they will develop computer literacy. They will be ready for the new world after COVID-19.
We will ensure that our beaches are upgraded so we could attract more tourists and our people can explore our constituency and our facilities.
For the fishermen particularly, we will provide cold storage facilities so they can keep the fish they can't sell immediately when they come into port. That, as you know, is something we have been begging Shawn to organise for them for the past sixteen years.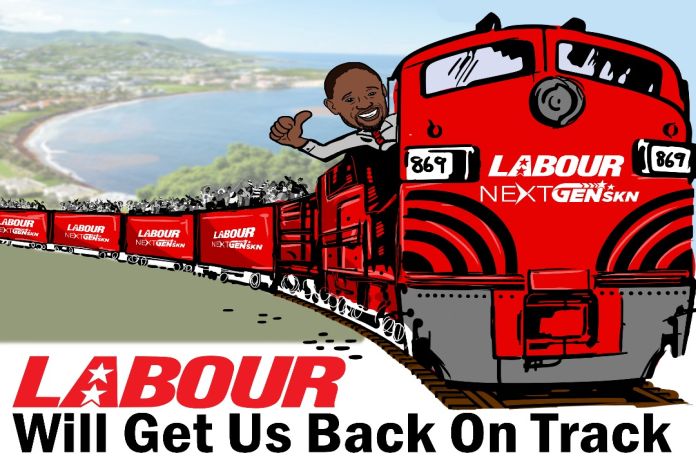 The reasons why the people of Constituency No.5 should not vote for Shawn, for PAM or Team Unity, is clear:
The People's Action Movement (PAM) is finished as a political force to the point where it has not held an executive meeting for a year because Shawn is out of the country attending every carnival and masquerade and is so busy partying that he has no time for his political party.
When Shawn was in opposition he said his hands were tied and he could not help his people. Now he is in government it seems that they are still tied and, in addition, his mouth is gagged. Between 2015 and 2020, he has only built a few houses and half of a police station in Sandy Point, and has flatly refused to help the people get the Port which they deserve and which will make a vast and significant difference to the lives of the people in the area as well as our entire country.
In the 2015 election, PAM got the most seats and Shawn should have been appointed prime minister. When he was offered the option to be PM, Shawn refused and said he was supporting Harris. Shawn told Harris that he wanted to become minister of finance based on his qualifications and undoubted experience as an accountant. As soon as Dr Timothy Harris became prime minister, he ignored Shawn's request and give him a lower-level post and yet Shawn did not protest. Why would you continue to support a candidate who allowed himself to be treated like garbage and if he wins you have nothing to gain but neglect? The events of the last five years have proven there is nothing for you if you vote for Shawn.
Although Shawn is PAM's leader he had no command over the PAM members of Cabinet. Grant thinks Shawn is a lightweight; Hamilton is angry that he lost the leadership race to Shawn by a casting vote of the then party chairman, Rusty Liburd; and Patches has absolutely no respect or loyalty to Shawn, Grant, Hamilton or PAM. In fact, Patches was seen canvassing in a People's Labour Party (PLP) shirt which means he has jumped the PAM ship (which he never really was on) and gone over to Dr Harris where his heart always was.
A vote for Shawn is a wasted vote.You have nothing to gain from it. History shows you that. Imagine, Shawn as the leader of PAM which had the majority of seats and support in parliament and yet Shawn could not help his own constituency and the people who have voted for him and supported him for 16 years.
Ask yourself the question, what did Shawn ever do for the people and community of Constituency No. 5? While Dr Harris has promoted and given big jobs to all his family and friends, what did Shawn ever do for you?
When Shawn was appointed minister of education he immediately promised and in fact boasted then that he would build a brand new, state-of-the-art, Basseterre High School (BHS). His term has ended and the High School remains an undelivered promise.
Despite being deputy prime minister and minister of education, Shawn has not spoken up for the over 200 students who are stranded abroad and can't get government help to come home. The students and their parents are becoming increasingly frustrated, desperate and depressed and are rightly blaming Shawn and Dr Harris for their uncaring attitude and lack of sympathy.
There are several unsavoury incidents involving Shawn that were featured on social media, including an incident with a coach who was later promoted supposedly for keeping his mouth shut.