By Annan Boodram and Aminta Kilawan-Narine, Sadhana
NEW YORK, USA — The traditional manner in which domestic violence activism and advocacy have occurred ­­­­­— focuses on building awareness and telling people what they ought or ought not to do. However, those operating in the field know that people generally don't take heed and even when they do; they do not have the wherewithal to know what specific steps can be taken to remain safe and protected, either as someone in an abusive relationship or as a domestic violence survivor.
Thus, in an effort to provide victims and survivors of gender-based violence and various other mental health pathologies, with requisite tools, a number of US-based Caribbean community service organizations banded together to launch a panel discussion series themed 'Saving Lives, Empowering People' on February 15, 2020, at Faith Assembly Church, 113-20 101 Avenue, Queens, NYC on the topic of 'Safety and Protection for Abused Victims'.
According to Annan Boodram, president of The Caribbean Voice, "While building awareness is important, it is generally a reactive measure that is not solutions-oriented. After years of engagement in suicide and abuse prevention in the Caribbean and the US, we finally decided that in addition to awareness building, counseling and after the fact support, we also needed to explore ways of providing victims and survivors with pragmatic and implemental tools that they can use to create safety and protection for themselves and others".
The launching panel discussion focused on safety and protection for victims and survivors of domestic violence.
The discussion opened with remarks from His Excellency Riyad Insanally, Ambassador of Guyana to the United States. Insanally spoke of the work happening in Guyana to combat mental illness and substance abuse, which many link to the incidence of domestic violence. Consul General of Guyana Barbara Atherly was also in attendance. Guyanese born, Dr Taj Rajkumar, New York State committee member, educator and civic leader, spoke about curbing a culture of alcoholism and focusing energies on engaging with men in bars, where the rhetoric uttered is particularly oppressive towards women.
Susan Jacob, executive director of the Queens Family Justice Center (QFJC), housed in the Mayor's office to end domestic and gender-based violence, indicated that the most dangerous time for a victim in an abusive relationship is typically when the victim makes the choice to leave the relationship. She stressed the point that "there is hope out there," suggesting that, "it's a group effort to eradicate domestic violence."
New York Police Department (NYPD) community coordinator, Enid Ocasio, highlighted that February is Teen Dating Abuse Awareness Month; and that violence shows up in teenage relationships more often than people think. She also focused on a safety plan, which is a tool that will help victims walk away from abusive relationships without fear.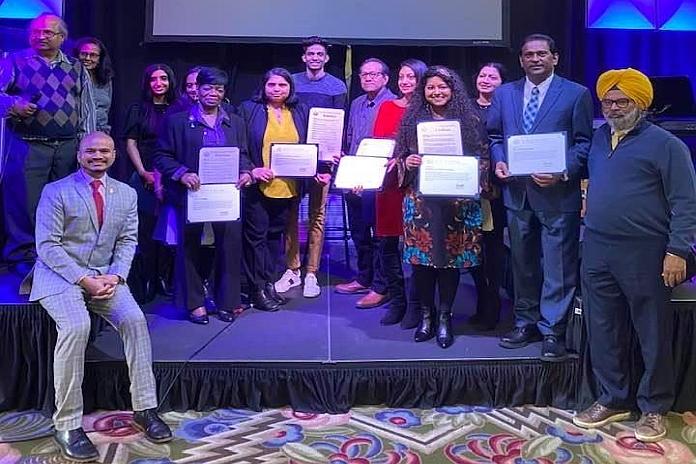 Information on how to put a safety plan together is available here.
Christine Perumal, attorney and director of Safe Horizon Domestic Violence Law Project indicated that it is important to file an order of protection/restraining order in a different area (police station) than the one close by to where the victim lives so that an abuser cannot identify his/her whereabouts.
Dr Sharla Khargi, who is among senior faculty at St John's University, explored reasons why domestic violence exists. Among the reasons, men could resort to violence as an expression of social power and a way to control their partners. Additionally, men could resort to aggressive forms of control over women particularly when they feel powerless. She focused on empathic communication as a tool that can help defuse anger and preempt violence in relationships.
Pastor Ejaz Nabie, stated that domestic violence has been endemic to Caribbean culture, reflecting on the lyrics of a popular Mighty Sparrow calypso song "Black up their eyes, bruise up their knee, and then dey love you eternally." Pastor Nabie walked attendees through ways faith leaders can support survivors of gender-based violence including using sermon time to preach about domestic violence and using "the right theology," namely scripture that is egalitarian, and listening without judgment. He also emphasized the need for the clergy to be clinically trained to be able to deal with gender-based violence.
The Caribbean Voice (TCV) plans to take this panel discussion series to the Caribbean starting with Guyana in March or April.
Other nations in which this panel discussion will be launched include Jamaica, Barbados, Trinidad and Tobago, St Vincent and the Grenadines and possibly Saint Lucia and Suriname.
To collaborate or participate in this process with The Caribbean Voice or to seek help in relation to suicide and abuse, please email us at caribvoice@aol.com or thecaribbeanvoiceinc@gmail.com; What's App +1 (646) 461 0574 or +1 (592) 6216111 or contact any of our member son social media. Also, check out our website at www.caribvoice.org for more information.