By Caribbean News Global contributor
GROS ISLET, St Lucia – Following a second consecutive weekend of shootings, nine homicides, (47 plus) suicides and attempts at concealing lawlessness, a customs officer (in uniform) of the Customs and Excise Department was gunned down in his vehicle on Tuesday (now fighting for his life).
Was this a targeted hit on an ongoing investigation relating to imported motorcycles?
Meantime, Saint Lucia's killing fields continues – The Customs and Excise Department, on Wednesday, July 12 2023, suspended operations to facilitate a visit and discussions on security and related matters with the prime minister, accompanied by the acting commissioner of police, "to assure them of the government's commitment to their safety."
Later that day, the office of the prime minister in a press release, said:
"In light of the unprovoked and cowardly act, the attempt on the life of one of our Customs officers is of serious and immediate concern. The matter is the subject of an active investigation, notwithstanding, the Customs and Excise Department takes this opportunity to make known that any threat, harm, or attempt to harm any one of our officers pursuant to his/her duties will not be tolerated.
"In this regard, the Customs Department is committed to pursuing any offence against our own to ensure that justice is done. With the help of our colleagues in law enforcement, the Customs Department has pledged support to the Royal Saint Lucia Police Force in ensuring the justice is duly served.
"We call on the general public, who may have information in the matter to assist the RSLPF in furthering their investigation."
Acting Commissioner of the Royal Saint Lucia Police Force, (RSLPF) Ronald Phillip, also informed police officers that all vacation leave has been cancelled from Thursday, July 13, 2023, to Wednesday, July 19 2023 due to the upcoming Carnival Festive Season.
It is fair to say, 'no one is safe in St Lucia', as bad policy, politics and social circumstances are 'ushering a life of crime?'
It has been previously explained, Crime is big business in Saint Lucia:
"Crime is now big business in Saint Lucia, there are persons who are known hitmen in Saint Lucia and these guys will not hesitate, if they get the right amount of money, to put a hit on you."
Talk of a 'systematic' approach to improve the RSLPF and the security situation in the country is 'being normalized' constitutes an embarrassment. To the extent that the population is silent and/or being silenced, frightened of public abuse, victimization and retribution.
The deliberate weakness of national security and security anxieties is no surprise to the presents of the Regional Security System [RSS] in Saint Lucia and the applicable cost of XCD 200,000 and counting.
In furtherance of new legislation, 'The Suppression of Escalated Crime (Police Powers) Bill' to deal with the suppression of crime, more brazen criminality has happened.
The hopelessness of political governance and weak law enforcement (beyond repair) is evident in the respective personals' substance (words and actions).
Ignorance of the law is no excuse. Failure to understand the severity of what is happening in Saint Lucia is a glaring shame of ineptitude, amnesia, and leadership not tolerated anywhere else. It's outrageous!
The inability to uphold national security is the direct responsibility of the minister for national security, the respective ministry and the gazetted officers of the RSLPF.
The fallacy to take offence from being called out and blamed for Saint Lucia's life of crime where – no one is safe – is symptomatic of imprudent and naivety.
Similarly, the attempt to divert facts, issues and circumstances relating to – ushering a life of crime – is conditional on thoughtful delinquents.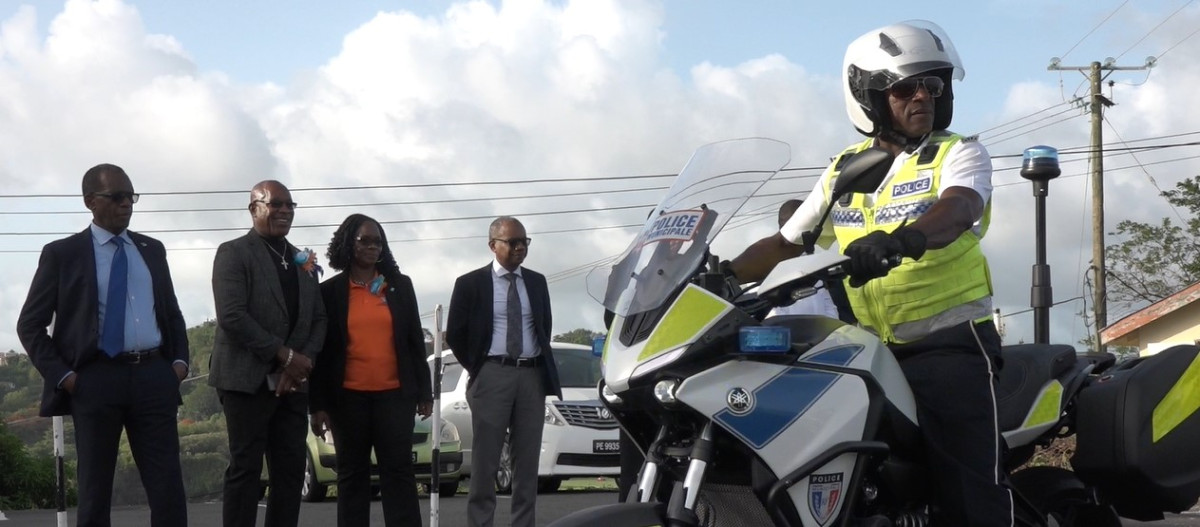 There are arguments to be made helping some semblance of the 'security' elements. And we've also received vague government answers.
"Under prime minister Philip J Pierre's stewardship of the national security ministerial portfolio, the Royal Saint Lucia Police Force continues to receive the equipment, resources and tools needed for modern-day policing and law enforcement efforts.
The prime minister has increased the motor vehicle feet of the police force after delivering five new motorcycles to the high command. Since 2021, prime minister Pierre has committed more than XCD 45 million to strengthen the country's chief security agency for a safer and more secure Saint Lucia."
Additionally, prime minister and minister for national security Pierre, "continues to facilitate the provisioning of tactical and operational resources for the RSLPF to bolster national security and enhance citizen security.
"The government of Taiwan has responded to prime minister Pierre's call and delivered new surveillance gear to the police force."
It is hard to brush off the feeling that common intelligence is being insulted here.
On Tuesday, a government minister "urged public support for the police amid a spike in deadly gun violence, declaring that someone always has information," according to St Lucia Times.
"Anything they ask for, they get it. But they need the public to help them."
"People can't expect and ask for safety and security and expect the police to do it alone without the support of the public."
"I can understand why anybody would say they have apprehensions about safety and security."
"Right now I just finished with cabinet discussing with the police preparations and arrangements for Carnival. They did a fantastic job last year. For Jazz, they did a fantastic job and they do have a plan."
"But I have to tell Saint Lucians we are doing everything we can to ensure that everyone is safe and secure – the locals and the visitors. The visitors are our guests, so they too are important," the Castries South MP told reporters Monday.
The ministers' comments were 'found wanting'!
James Banks July 10, 2023, At 9:38 pm
If you are providing the police with everything they need to fight crime and the public is apprehensive about giving information to the police, you need to have a problem-solving meeting to arrive at a possible solution.
Anonymous July 10, 2023, At 10:00 pm
Bul#sh"t! Over eight people killed, in less than two weeks, and not one suspect arrested, not one, but we should support the police, because Carnival coming, and we have to protect the visitors. Bullsh#t again! We should boycott Carnival! How many murderers walking around Saint Lucia? They going Carnival too?
Raise minimum wage July 10, 2023, At 10:00 pm
Hilaire have balls to say the police getting everything they want? Some police officers have no department or building. Some work in mold [y] unsafe environments, some are working overtime with no added pay, no gratuity when they retire, no gym [s] … . And the police getting what they want?
Rude July 10, 2023, At 10:55 pm
Hilaire the police will receive public support when the public see police patrols, and road checks at night when the guns are moving around. All the public see are the new vehicles speeding through the communities with windows rolled up. We need to see beat and patrol.
While the police may not stop some of these killings they can intercept the gunmen fleeing the scene or their presence may act as a deterrent.
Community police stations doors are closed at night. Therefore, we need to see our police on patrol day and night. There needs to have a balance of police officers, equipment and effective legislation supported by effective strategies in combating crime.
It appears that as the police-issued vehicles increase, there is a corresponding increase in the number of homicides. Sad but true.
Disgusted Youth July 10, 2023, At 11:47 pm
Minister of Bacchanal finally speaks… And only because crime may be impacting his carnival… 47 murders and we are talking about feeling safe for Carnival events! I don't feel safe going to work daily, Sir!
Anonymous July 11, 2023, At 6:26 am
If the citizens don't trust the politicians and police, they won't heed your plight or call. It's simple!
Damaging hearts and minds
Public safety and security are a growing disrespect to taxpayers. Quite significant is a judicial system that seems equipped in the business of catch and release of lawbreakers, gun-runners and criminals.
More significant is the leadership of Saint Lucia's national security to provide statistics, withholding appropriate information and guidance to the public.
Worker's representation (Trade Unions), religious leaders and concerned citizens are timid in their own deliberate narrow interests. #protect the victory
Conversely; is Saint Lucia a criminal hybrid state of criminality and corruption?
"Venezuela today, we believe, is a hybrid state, where the line between governance and criminality has blurred, and in some cases, disappeared altogether."
Read more: Why InSight Crime is Calling Venezuela a "Criminal Hybrid State"
The objective of Saint Lucia's crime management appears more relevant to place the onus on the public at their peril. Meanwhile, allegations and/or acquisitions in the RSLPF that are left to unguided discretionary belief – is a travesty of intellectual dishonesty.
But on an island where two Saint Lucia's are prevalent – a selective 12.5 percent VAT reduction and 2.5 percent tax increase is "no big deal" and bad policy is not challenged – the message is simple.
We should all live in the north of the island, "where people live" and where organized crime is not publicized. And "request for sensitivity in reporting" seems paramount.
But if the government wants to help people and the country, policymakers must first acknowledge that the government of Saint Lucia, national security, government minister and the people – remain at odds.
It is not acceptable to be talking up generosity and compassion amid hidden economic growth. We have to do better!
@GlobalCaribbean