– Survivors hail Spotlight Initiative/Clarendon Municipal Corporation economic empowerment training programme
KINGSTON, Jamaica, (UNDP) – Twenty Domestic Violence survivors have been gifted tablets to bolster their chances of winning small business grants and to facilitate access to virtual training and business resources.
As a prerequisite for their upcoming graduation from a five-month business training programme on 25 May 2023, participants must develop and submit business plans for a chance to receive grant funds to set up or strengthen their small businesses. The tablets have been deployed to support the development of these plans in time to meet submission deadlines and to digitally reinforce fledgling or future enterprises.
The 20 participants recently received the tablets at the Wembley Centre of Excellence in Hayes, Clarendon, during a personal development and life skills training session. The session is one of several modules in the five-month Local Economic Development Community Training Programme funded under the European Union/United Nations Spotlight Initiative.
The course, implemented by the United Nations Development Programme (UNDP) Multi Country Office in Jamaica, in partnership with the Local Economic Development Unit of the Clarendon Municipal Corporation, aims to bolster economic empowerment of domestic violence survivors through training in business management, marketing, and sustainable business strategies.
"Training has been empowering," declared participant Cadine McLeod-Davis. In her assessment of the last session which included guidance on dealing with abusers and digital skills, she said: "The realistic way the trainer has brought (the message) across is not just (about) the words, it's not just the PowerPoint, but bringing it out with real-life situations; (sharing) things that has happened in her family, persons that she knows. So, persons who would have been numb or silent got the chance and opportunity to (express their feelings). Another participant, Abigail McKenzie called the training "very informative and very good so far".
"Spotlight Initiative aims to effectively equip vulnerable women with the skills capacity and resources to disrupt their economic dependence on male partners and progress to independence. By gaining financial earning power, they are less susceptible to dependent relationships and at less risk of exposure to domestic violence," UNDP programme officer Shellian Forester explained.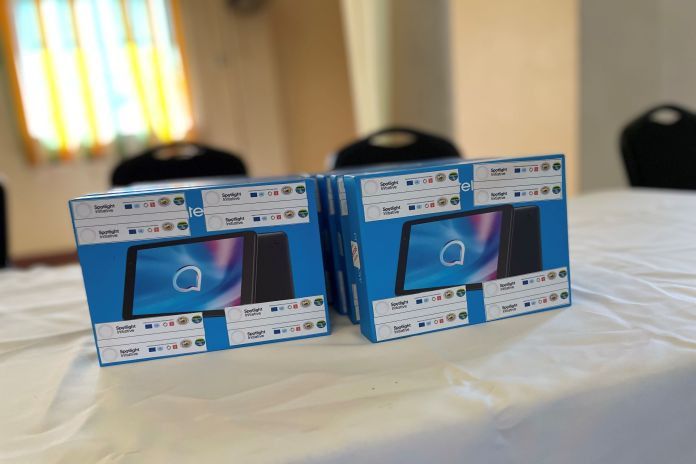 In her charge to the participants, she said: "We look forward to great things from you as you complete training leading to certification in small business and to seeing you soar as entrepreneurs making your way independently to support your families."
Speaking on behalf of Custos of Clarendon, William Shagoury, Eurica Douglas, president of the Clarendon Parish Development Committee Benevolent Society congratulated the participants for taking the bold step to transform their lives and to become more self-reliant and empowered.
"I commend your courage and resilience and urge you to persevere and see the programme to completion and establish a strong foundation for your future endeavours." She said the participants should consider the tablets a vital investment in unlocking their innate potential. I hope whatever learned and awareness gleaned from training will better prepare you as move forward to realize your goals and objectives and potential," Scean Barnswell, Councillor for the Hayes division declared. He congratulated the Clarendon Municipal Corporation for a job well done in organizing the training programme.
Deputy superintendent of police, Owen Brown, who brought greetings on behalf of acting senior superintendent of police, Carlos Russell officer in charge of Clarendon police division assured survivors and the spotlight team, "we very much on board with you. We know that at the end of the year when we are counting numbers of violent crime, this will help us see a reduction … We have over 300 cases at DVIC now being dealt with … We know the initiative is helping because the families are coming in and they are participating, and as such what could have been, is no longer happening, and for that we are very grateful."
In an uplifting message to participants, Sheree Wright Campbell of the victim services division in the ministry of justice, said: "…Your situation does not define who you are and who you will become. Change begins with you. Believe in yourself, understand and know who you are as a person. See yourself as an overcomer. You are being given tools to help you along the way."
This current training builds on work completed last year in Phase I of Spotlight in Clarendon which trained and supported 40 women and 10 girls. The ongoing empowerment training of domestic violence survivors seeks to practically implement components of the violence against women and girls (VAWG) strategy of the parish's Local Sustainable Development Plan (LSDP).
An additional component of the project will be a workshop series titled "VAWG Interruption: how to spot the signs". Twenty women along with ten girls will participate in a workshop series geared at equipping them with interpersonal and behavioural psycho-social skills.
The Spotlight Initiative is a global initiative of the United Nations which has received generous support from the European Union. It aims to eliminate all forms of violence against women and girls.
UNDP multi-country office in Jamaica is assigned lead implementation responsibilities for two pillars under Jamaica's spotlight initiative programme – Pillar 1: legislative and policy framework; and Pillar 2: strengthening institutions.