BRIDGETOWN, Barbados – On April 4, 2023, the Canadian government funded Improved Access to Justice in the Caribbean (IMPACT Justice) Project officially handed over to Justice Christopher Blackman, GCM, Q.C, (retired), chairman of the Employment Right's Tribunal, the first copy of the Barbados Employment Rights Tribunal Reports, 2015 – 2021.
This publication includes 27 cases decided by, and on appeal from the Barbados Employment Rights Tribunal from 2015 and was edited by Sir David A.C. Simmons, KA, BCH, KC, LLM, former chief justice of Barbados and Justice Blackman.
In accepting the reports on behalf of the Employment Rights Tribunal, Justice Blackman expressed his heartfelt thanks to Professor Velma Newton, CBE, SCM, Regional project director of IMPACT Justice and her team. He also thanked the government of Canada for its financial support through IMPACT Justice.
He noted that over the past 10 years, the Tribunal had issued just over 40 judgments and of these, 27 cases are included in the first volume of the Employment Rights Tribunal Reports.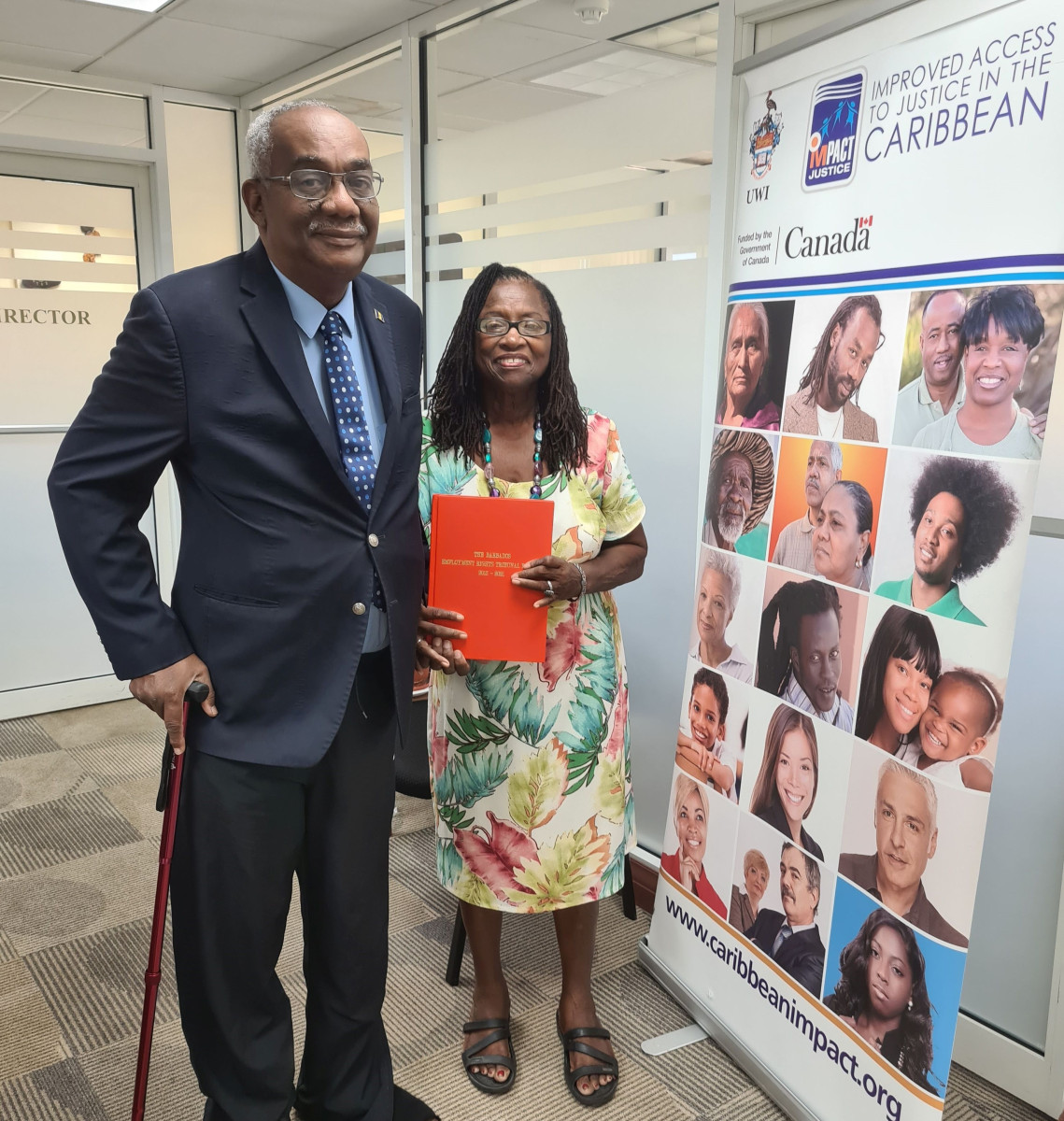 For IMPACT Justice, the publication of these reports is the third such initiative undertaken by the Project since its inception in 2014. The first was the compilation and publication of an Eastern Caribbean Supreme Court Personal Injury Cases Digest, 2000-2017 and the second was the Guyana Law Reports series (2008-2018), which is still in progress.
For many years the Project was also a substantial supporter of CariLaw, a database of cases decided in the High Courts and Courts of Appeal of the region from the late 1940s, which are now available on VLex, one of the world's largest databases of case law.
The IMPACT Justice Project and the team of Professor Newton and officers are indeed pleased to have been a part of this very worthwhile exercise which will redound to the benefit of the legal profession, employers, employees, trade unionists and others with an interest in the development of employment rights and labour relations.
Professor Newton congratulated the ministry of labour, social partnership relations, the third sector, and the current chairman of the tribunal, Justice Christopher Blackman for understanding the importance of such a publication and spearheading the initiative leading to the completion of this first volume of cases.
Distribution of the reports will be done through the permanent secretary, ministry of labour, social partnership relations, and the third sector.